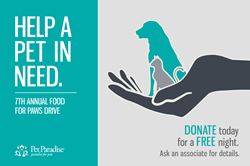 Jacksonville, FL. (PRWEB) November 10, 2015
Pet Paradise Resort kicked off its 7th Annual Food for Paws Pet Food Drive to benefit local animal welfare groups and pet owners in need on November 9.
Food for Paws will assist 13 pet food banks and numerous pet owners who are struggling to feed their pets. Local residents can help bring a little bit of paradise to pets in need this holiday season by donating a bag of pet food to their local Pet Paradise. Families who donate 20 pounds or more of pet food to the drive will receive one complimentary night of boarding at any Pet Paradise. Food for Paws will end December 31, 2015.
"Pet Paradise is committed to helping furry companions in need during the holidays," Fred Goldsmith, Pet Paradise Resort CEO and Executive Chairman, said. "We are proud to support our local communities and hope to raise awareness of so many valuable charities."
Overall, Pet Paradise Resort has donated more than 112,000 pounds of pet food in the past six years. In 2014, Pet Paradise Resort collected and distributed over 37,000 pounds of pet food to numerous animal welfare groups in the United States.
The holidays are a great time to help others and Pet Paradise is committed to helping four-legged friends in need. For a full list of the charities the pet food drive will be impacting, please visit http://www.petparadiseresort.com/blog/7th-annual-food-paws-pet-food-drive.
About Pet Paradise: Headquartered in Jacksonville, Fla., with more than 550 employees, Pet Paradise was formed in 2002 and currently has 26 facilities in operation of which 12 are located throughout Florida, three are in Houston, three in the north Dallas area, three in the Charlotte area, two in Atlanta and one each in New Orleans and Albuquerque. At Pet Paradise our mission is to create a safe, clean and fun environment for our four-legged guests. The Pet Paradise facilities include spacious dog and cat boarding suites as well as day camp and grooming services. For more information about each resort, visit http://www.petparadise.com or visit our social media sites: Facebook, Instagram, Twitter, Vimeo and Pinterest.