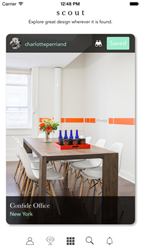 San Francisco, CA (PRWEB) November 10, 2015
San Francisco digital design developer Musey is honored to announce the launch of their first app, Scout, the mobile destination for design fans to explore the latest in interior design and architecture. Scout is free is available for download at Apple's App Store here: https://itunes.apple.com/us/app/design-scout/id983785494?mt=8
With Scout, users can discover and collect real world design inspiration from an assortment of gorgeous images that are updated daily. Unlike other mobile apps or registries, the content is carefully curated by a selection of top leading architects, interior designers, lifestyle bloggers and tastemakers to guarantee users the best visual experience.
Scout features five curated design projects per day, offering users a fresh dose of great design to explore. The mobile design destination showcases cool hotels, hip startup spaces, beautiful homes, and chic coffee shops from around the world. The interactive app enables users to like and comment on images, follow favorite tastemakers and curators, browse curated collections, and search images by furniture, style, and room type.
A team of process-driven designers and developers, Musey was founded by Harvard Graduate School of Design alums Jude Sue Fulton and Hokan Wong. The startup's investors include early backers of Pinterest, Makerbot, and Paper by FiftyThree, to name a few.
"Scout is the kind of app that we wish was available when we were students. As emerging designers it's very difficult to rise above the noise, so we created a platform for focusing on just a select few projects each day," Founders Hokan Wong and Jude Sue Fulton say.
About Musey
Cofounders Jude Sue Fulton and Hokan Wong met as students at the Harvard Graduate School of Design where they received their Master's degrees in Architecture and won the Harvard-wide Dean's Challenge for Entrepreneurship. Musey is currently based in San Francisco.