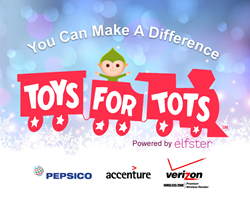 We could not be more pleased to be working with this wonderful organization
New York, NY (PRWEB) November 11, 2015
Elfster.com, the top-rated gift exchange website, is proud to announce their partnership with the Marine Toys for Tots Foundation facilitating online toy donations. The nationwide campaign will allow for donors anywhere to purchase toys online, and have them mailed directly to a Toys for Tots location near them. In recognition of Veterans Day, and the important work that the Marine Corps does for Toys for Tots, Elfster will allow donations to begin today https://www.elfster.com/toys-for-tots/
"Toys for Tots is an amazing organization with such a rich history of giving," explained Peter Imburg, CEO of Elfster.com. "Since our primary purpose is to make holidays and giving easier, this seemed like a natural fit for us. We could not be more pleased to be working with this wonderful organization, that strives to make the holidays better for some of the most vulnerable children in this country."
The Marine Toys for Tots Foundation works to fulfill their mission of providing toys, books and other gifts to less fortunate children. For 2015, they expect to provide gifts for at least 7 million children. The primary goal of Toys for Tots is to deliver, through a new toy at Christmas, a message of hope to less fortunate youngsters that will assist them in becoming responsible, productive, patriotic citizens.
Through the partnership, Elfster will allow users to browse some suggested gifts. They can then choose their gift and make the purchase directly from the retailer, and send to the nearest Toys for Tots location. The convenience of online shopping is combined with the local donation, that has always been a major attraction of the Toys for Tots program. Elfster's online Toys For Tots Drive will invite their almost 3 million users, and the general public, to donate toys online. Elfster is also excited to partner with PepsiCo, Verizon Wireless Premium Retailer – Wireless Zone®, and Accenture, to help manage their Toys For Tots Campaigns and online toy donations.
About Elfster.com
Elfster is the Web's top-rated online Secret Santa generator. Participants use the company's tool to organize a holiday gift exchange of any type, learn Secret Santa rules or how to play, organize family, office or friends and generally keep track of your holiday or Christmas gift exchange all conveniently online. Elfster makes it easy, free, and fun to give and now, #give back!
Donate a toy to Toys For Tots today at: http://www.elfster.com/toys-for-tots/