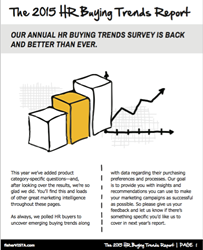 "For anyone who sells and markets to HR, our report is filled with invaluable insights for making truly informed decisions to improve strategy, selection of tactics and allocating budget
(PRWEB) November 10, 2015
fisher VISTA has released its "2015 HR Buying Trends Report," a 12-page review and analysis of the results of the company's annual survey of HR buyers, which gathers intelligence on the purchasing habits, preferences and budgets of buyers throughout the HR marketplace.
This year's survey reveals that:

HR spending outlook is strong in particular categories. More than 40% of respondents plan to spend more per employee in the next 12 months on manager training, employee training, employee benefits, and rewards and recognition.
Buyers are turning back to peers when researching vendors. Online searches had been the top choice in recent years but canvassing peers is now the number one way buyers begin the researching/purchasing process (40%).
The report also sheds light on various factors that impact purchasing decisions, the social platforms HR buyers value most, how likely they are to fill out registration forms when downloading content, the percentage of HR trade-show attendees that visit exhibition halls, and more.
"For anyone who sells and markets to HR, our report is filled with invaluable insights for making truly informed decisions to improve strategy, selection of tactics and allocating budget," said Katrina Busselle, fisher VISTA's vice president of client services. "As always, our report helps marketers better understand their buyers' purchasing habits and preferences, which are always evolving. And, in some instances, the findings are surprising and may have marketers rethinking some of their decisions for 2016."
The report is available for download here.
About fisher VISTA
fisher VISTA has helped companies improve their brand awareness and marketplace credibility for 15 years. Our agency's marketing and media relations professionals are experts at helping brands tell their stories compellingly through Messaging, Content and PR campaigns that engage the audiences who matter most to their success. Clarity and consistency of message, greater online visibility, and more meaningful conversations with your buyers are just a few of the outcomes you can expect when you work with us. Visit fisherVISTA.com to learn more about us.