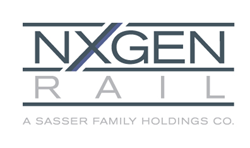 "Our technologies are enabling our customers to detect serious track defects that are otherwise overlooked, thus making an important contribution to rail safety."
Chicago, Illinois (PRWEB) November 10, 2015
In partnership with HP Enterprise Services, NxGen Rail Services, LLC, a subsidiary of Sasser Family Holdings, has been testing its NxTrack™ System at Transportation Technology Center, Inc. (TTCI's) Full-Scale Track Testing Facility in Pueblo, Colorado. The inspection runs were made as part of the American Association of Railroads' (AAR's) Strategic Research Initiatives Program involving automated track inspection using imaging technology.
"We are delighted to have been able to support the AAR in their research initiative, and look forward to publication of the test results," said Robert Grant, Managing Director of NxGen Rail Services, LLC. "Our technologies are enabling our customers to detect serious track defects that are otherwise overlooked, thus making an important contribution to rail safety."
NxGen's NxTrack System operates on its track inspection rail car, NXGX 391, and rides along the rails collecting data at speeds up to 7O MPH using Optical Inspection Technologies, Geometry Inspection and Ground Penetrating Radar Technology. The tracks were configured with known geometry and optical defects, as well as buried structures that the NxTrack system was tasked to identify. Testing was conducted over three days.
About NxGen Rail Services, LLC and Sasser Family Holdings, Inc.: NxGen Rail Services, LLC is an integrated rail technology solutions engineering and development company operating in North America. NxGen Rail is a subsidiary of Sasser Family Holdings, Inc., a 4th generation, family-held transportation asset services and management company with roots dating back to 1928. Other SFH subsidiary business units include Chicago Freight Car Leasing Co., Union Leasing, Inc. and its division, Express 4x4 Truck Rental, CF Rail Services, LLC, CF Asia Pacific Group PTY Ltd., and Xcēd Aviation Services, LLC. The businesses are leaders in providing commercial and industrial-focused rail, ground support, and vehicle transportation equipment solutions including asset leasing, fleet administration management, asset repair and maintenance, and innovative technology solutions throughout North America and Australia. For more information about NxGen Rail visit http://www.nxgenrail.com or Sasser Family Holdings, Inc. at http://www.sfhsinc.com