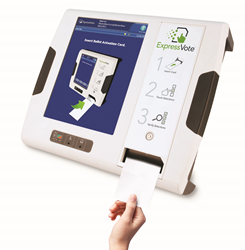 The feedback that we received from the voters and the election judges was overwhelmingly positive. We hope we will be able to continue serving the voters of Jeffco with this wonderful new technology. -Carrie Kellogg, Jefferson Co. Director of Elections
OMAHA, Neb. (PRWEB) November 10, 2015
As jurisdictions nationwide held elections November 3, select counties in Colorado had the pleasure of participating in a pilot program initiated by Secretary of State Wayne Williams. The program aims to select a more uniform system of voting for Colorado. Speaking with the Denver CBS affiliate Williams remarked, "It's a great opportunity to try different systems and rather than just buying them, we're trying a new kind of common sense approach of try before you buy." He also explained how a more uniform system could help smaller counties in Colorado who may need support from larger neighboring counties during elections.
As one of the selected vendors for the program, Election Systems & Software (ES&S) was honored to be the provider of federally certified equipment for Jefferson and Teller Counties on November 3.
Facts at a glance: While both counties piloted the ExpressVote Universal Voting System, when tabulating ballots the two choose different methods. Jefferson County used both DS200 Vote Center Polling Stations and the DS850 central scanner & tabulator. Teller utilized the DS200 as a central scanner & tabulator. By the end of the night Jefferson processed around 185,467 ballots with ES&S equipment; Teller 6,571. The wide range of voting equipment ES&S provides covers a variety of voting methods, making it a good choice for Colorado jurisdictions.
"We're proud to have had the opportunity to team up with ES&S, a long time partner of the Jefferson County Elections Division, for the UVS pilot project. The level of support we received from ES&S was a great benefit and made the transition to the pilot system very smooth," remarked Carrie Kellogg, Director of Elections for Jefferson County. "The features of the new equipment helped us serve our voters more efficiently both in the VSPC with ExpressVote, DS200, and Balotar, as well as in our central count for mail ballots with the DS850. The feedback that we received from the voters and the election judges was overwhelmingly positive. We hope we will be able to continue serving the voters of Jeffco with this wonderful new technology.
Krystal Brown, County Clerk & Recorder for Teller had a similar experience, stating "The whole pilot process has been enjoyable thanks to ES&S. They've provided superior support throughout the process and the equipment we used performed great. The ExpressVote units were very easy to use and the DS200 provided us with confidence in our tabulation process. I think it is a great fit for Colorado."
Among those in Colorado to observe the pilot program were a commissioner from the Election Assistance Commission, election officials from other states and neighboring Colorado counties.
To learn more about the Colorado pilot, please visit http://www.sos.state.co.us/pubs/elections/VotingSystems
To learn more about the full ES&S suite of voting solutions, please visit http://www.essvote.com/products.
ABOUT ES&S: Election Systems and Software, LLC (ES&S) is the world's largest elections-only company, providing election equipment and services for nearly 35 years. ES&S serves 42 states and more than 2,400 of the 3,144 county-level governments across the United States. Learn more about ES&S at http://www.essvote.com and on Facebook at facebook.com/essvote.
# # #