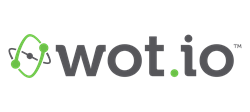 New York (PRWEB) November 10, 2015
wot.io™, the data service exchange™ for connected device platforms, today announced an agreement with Critical Mention for use of the Critical's enriched media data stream Platform-as-a-Service product. In this agreement, wot.io will route the transcribed media data stream to various data services in their exchange to create new data products based on customer requirements.
Critical Mention ingests and transcribes live television and radio broadcasts creating a continuous stream of media data. It is provided as a series of enriched messages including the callsign of the station, time stamps, and the full transcribed text of the broadcast, along with significant metadata to facilitate search and indexing. wot.io receives the data in real-time at speeds up to 100 messages per second. Through the wot.io data service exchange, wot.io connects this data stream to a variety of integrated data services that allow for sophisticated stream processing, big data analytics and reporting.
There are numerous commercial vertical applications for this data stream that can be created by using the wot.io data services exchange. For example:

A financial or insurance organization can use the Critical Mention broadcast data stream with wot.io data services to develop an application for monitoring real-time stream of emergency or news event mentions, tracking said events over time. This would be particularly useful in a crisis context (such as an oil spill, natural disaster, vehicle mechanical recall, or food safety issue) where national or global coverage can fluctuate on a minute-by-minute basis,
Any organization with machine learning and data scientists wanting to track and correlate up-to-the-minute TV and Radio broadcast coverage for concept trending and intelligence applications.
"Traditionally, we think of IoT data as originating from non-human sources like environmental or equipment sensors , and that is true," said Jim Brandt, vice president of product management for wot.io. "But the same data services we offer to extract value from sensors can be used to extract value from any data stream, and the Critical Mention data stream is no exception. As an example; we have interest from enterprises that want to correlate the live mentions in the broadcast media from Critical Mention with product distribution/inventory data using the data services from our exchange."
For examples of how wot.io can add value to Critical Mention data with a sample data service please review these blog posts:
Processing Critical Data with MongoDB and Pentaho
IoT and Big Data from Critical Mention with NGDATA and scriptr.io
"Every 60 seconds, we ingest more than 40 hours of content from over 2,000 broadcast sources, which is searchable in near real-time," said Sean Morgan, CEO and founder of Critical Mention. "The size and scope of this data stream alone is simply massive, and it's inherently loaded with value."
About Critical Mention
Critical Mention allows users to search global TV, Radio, online news & social media, watch video, edit and share coverage, receive real-time email alerts, build reports, and analyze coverage through word clouds and graphs. Critical Mention tracks broadcast media throughout the US, Canada and Mexico, and has reach into major markets in Germany, France, Spain, Poland, and the UK.
About wot.io
Founded in 2014, wot.io is the data service exchange for connected device platforms. wot.io enables the enterprise customer to derive value from their connected device data. wot.io's data service exchange of best-in-class data services enables customers to focus on building their solution while freeing them from the time consuming effort of making contractual agreements and technically integrating each data service. Through choice, time-to-market and scalability we help our customers drive ROI and increase revenue with their solution using analytics, business intelligence, data retention, device management, data management, monitoring, visualization, reporting, web API automation and other offerings.
wot.io and its logo, and data service exchange are trademarks of wot.io, Inc. All other company or product names, brands, trademarks, and logos are the property of their respective owners. All rights reserved.
###