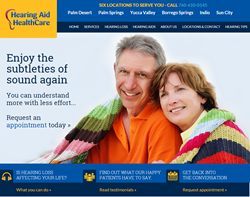 Palm Desert, CA (PRWEB) November 10, 2015
Hearing is easy to take for granted, but when it's lost, it's obvious how important it is to maintaining a high quality of life. Hearing is critical to fully enjoying music, nature, and conversations between family and friends.
For many people, by the time they realize how important hearing is, they already have some degree of hearing loss. We live in a loud world, where several everyday sounds cross the threshold of what is considered safe. Fortunately, through simple lifestyle modifications, people can easily protect themselves from permanent, long-term hearing loss.
In a recently published article titled 6 Ways to Lose Your Hearing, Hearing Aid HealthCare describes the common causes of long-term hearing loss and what people can do to protect themselves.
The six common ways to lose your hearing include genetics and aging, exposure to loud sounds while traveling, exposure to loud sounds while at work, taking drugs and smoking, listening to music at excessive volumes, and injuries and medical conditions.
The article also includes simple lifestyle modifications to prevent long-term hearing damage from these sources. For example, when traveling, drive with windows up in a convertible, wear a helmet when on a motorcycle, and invest in noise cancelling headphones if riding the subway.
Other protective strategies include wearing custom earplugs, turning the volume down on portable music players, and maintaining a safe distance from the speakers at a live concert.
If the source of the loud noise cannot be avoided, for example in loud work environments, then steps should be taken to lower the volume. The best way to accomplish this is often through the use of custom ear protection, best acquired in consultation with a hearing specialist.
Hearing Aid HealthCare is encouraging anyone interested in custom earplugs to contact the practice, which can provide custom-molded, comfortable earplugs that can decrease the volume of sound without sacrificing its quality.
About Hearing Aid HealthCare
Hearing Aid HealthCare has served the Coachella Valley area for over 18 years. They offer a full range of diagnostic and preventative hearing healthcare professional services, including hearing aid screening, evaluations, hearing aids sales and rehabilitative and preventative counseling. Hearing Aid HealthCare is dedicated to keeping abreast of the latest improvements in technological advancements in the hearing industry and are committed to offering the most current options to its patients.
Contact:
Jeannette Hait
Hearing Aid HealthCare
760-610-0145
http://www.hahc.net