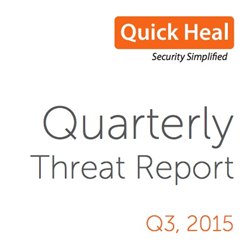 In Q3, the number of spam emails categorized as malicious spiked, with approximately 36% of all emails including either a tracking cookie, attachment or malware designed to infect the receiver's computer.
Boston, MA (PRWEB) November 10, 2015
Quick Heal Technologies today announced its Quarterly Threat Report for the third quarter of 2015 is now available. This latest report offers a deep dive into current threats, which include the top malware affecting Windows and Android platforms occurring from July to September 2015. The report also provides an advanced look at IT security vulnerabilities related to the "Internet of Things" and the new focus on iOS, among other major threats. The full report is available now as a free download from the Quick Heal website.
Quick Heal receives virus signatures in real time from around the world. This enables the company to detect new threats that may start abroad and which have the potential to impact companies and users in North America, where it offers its Seqrite line of IT security solutions.
In a continuing theme from the Q2 Threat Report, the Q3 report finds an alarming number of threats on two very popular platforms: Windows and Android. According to Quick Heal's findings, these two platforms are the most vulnerable to attacks and continue to present problems for corporate networks.
The report also finds that email continues to pose a threat to corporate networks. In Q3, the number of spam emails categorized as malicious spiked, with approximately 36% of all emails including either a tracking cookie, attachment or malware designed to infect the receiver's computer.
The report cites top threats for Windows, which include the following:

Over the third quarter of 2015, millions of new threats for Windows users were detected.
Trojans are the most common types of malware affecting the Windows platform.
Ransomware and Advanced Persistent Threats (APTs) continue to grow unabated.
Adware is especially dangerous for PC-based corporate networks, particularly as the holiday season approaches. Quick Heal labs expect Adware malware authors to use more sophisticated tactics to trick Windows users going into 2016. Bombarding email inboxes with promotional offers and enticing subject lines, the emails threaten entire corporate networks if users click on URLs that redirect them to malicious websites.
According to the report, the news is slightly more positive for the Android platform in general. However, it is still highly vulnerable:

Although still at a significant number, threats over the third quarter decreased from 1,526,756 to 1,295,319.
Quick Heal labs found 220 new families of Android malware and 148 new variants of existing Android malware families.
Adware constitutes approximately two-thirds of all samples received in Q3.
Potentially Unwanted Applications (PUAs) and Adware together comprise 85% of total samples received in the months of July, August and September of 2015.
Applications also continue to pose new threats through CAPTCHA-bypassing malware from the Google Play store and fake malicious games that clone social media accounts, including Facebook, which opens the door to successful phishing expeditions.
"Our latest Threat Report for Q3 continues to shed light on the security problems impacting the Windows and Android platforms, two of the most widely used platforms in business today, " said Sanjay Katkar, Quick Heal CTO and co-founder. "This report should put business owners and IT professionals on high alert, placing the spotlight on their security policies and whether they should be looking at additional safeguards to secure every endpoint. In addition, the report points to the need for companies to adopt Mobile Device Management solutions immediately to ensure their mobile workforces, many equipped with Android devices, are not putting sensitive corporate data into the wrong hands."
For a complimentary copy of the Q3 Threat Report, please visit the Quick Heal website.
Resellers interested in becoming a Quick Heal/Seqrite partner, please contact 855-978-6117 or email us(dot)sales(at)seqrite(dot)com or visit the Quick Heal partner page.
About Seqrite
Seqrite is the enterprise security brand of Quick Heal Technologies Ltd. The comprehensive
Seqrite data security product line targets small to midsize enterprises and is designed to
simplify security management across endpoints, mobile devices and networks. For more information on Quick Heal, visit http://www.quickheal.com.
"Disclaimer: Quick Heal Technologies Limited is proposing, subject to receipt of requisite approvals, market conditions and other considerations, an initial public offering of its equity shares (the "Equity Shares") and has filed a draft red herring prospectus (the "DRHP") with the Securities and Exchange Board of India ("SEBI"). The DRHP is available on the website of the SEBI at http://www.sebi.gov.in and the websites of the Book Running Lead Managers at http://www.icicisecurities.com, http://www.jpmipl.com and http://www.jefferies.com. Any potential investor should note that investment in Equity Shares involves a high degree of risk. For details, potential investors should refer to the section titled "Risk Factors" in the red herring prospectus to be filed with the Registrar of Companies. Investors should not refer to the DRHP for making any investment decision."