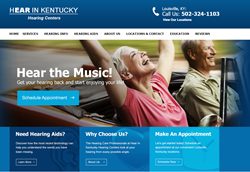 Louisville, KY (PRWEB) November 10, 2015
For those thinking that treating hearing loss can wait, Hear In Kentucky's recent article titled Why You Shouldn't Wait to Treat Your Hearing Loss is required reading.
As the article explains, hearing loss is cumulative and generally worsens over time, producing various mental, social, and potentially physical complications. And while hearing loss can be corrected—and the risk of developing serious medical conditions reduced—hearing loss gets harder to treat as the condition worsens.
Hear In Kentucky compares the effects of hearing loss on brain tissue to the effects of a broken bone on muscle tissue. When a bone is broken, the limb is immobilized and the muscle begins to weaken, decreasing in size from lack of use. The sooner the cast comes off, the sooner the muscle can be stimulated and the sooner strength can be recovered. If too much time were to pass, irreversible muscular atrophy would occur.
The same phenomenon applies to hearing loss. As sound stimulation to the brain is reduced, the areas of the brain dedicated to hearing become weaker or become reassigned to different functions. Researchers call this "auditory deprivation," and the longer the hearing loss is present, the greater the effects.
Researchers believe that this may be one of the causes behind the link between hearing loss and more serious medical conditions like depression, dementia, and Alzheimer's Disease.
Hearing aids restore sound stimulation to the brain, and in doing so strengthen the areas of the brain responsible for hearing. This prevents further weakening and the reassignment of brain tissue to different functions. If hearing loss remains untreated for too long, it becomes harder to reverse the damage.
Hear In Kentucky encourages those that suspect hearing loss to schedule a hearing test as soon as possible. Hearing tests are comfortable and relatively fast, and any hearing loss that is present can be diagnosed and corrected.
About Hear In Kentucky
In November 1992, President and COO Robert Marshall III founded Hear In Kentucky Hearing Centers in a small room located in the back of the Charles Krebs Optical Shoppe. Shortly after forming Hear In Kentucky Hearing Centers, Roy Martin joined Mr. Marshall, as his partner. Both Mr. Marshall and Mr. Martin wanted to fill a much needed gap in the Louisville hearing aid market by supplying the best hearing aids available at reasonable prices with expert testing and no pushy sales tactics. Today, after over 20 years in operation, Hear In Kentucky has successfully grown to become one of Louisville's largest independent network of licensed hearing healthcare providers with 3 offices throughout the city.
Contact:
Greta Ratliff
Hear In Kentucky
502-324-1103
http://www.hearinkentucky.com