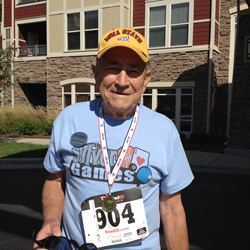 "There is a large group of veterans at GreenFields," O'Connell says.
Geneva, IL (PRWEB) November 10, 2015
Anyone familiar with the United States Armed Forces can tell you that veterans tend to find each other in a variety of surroundings, and that is certainly the case for GreenFields of Geneva. Just ask resident and former Navy pilot John O'Connell.
"There is a large group of veterans at GreenFields," O'Connell says. "We still have two guys that are World War II veterans, but a majority are Korean conflict veterans."
O'Connell, 84, says that GreenFields always has something planned for veterans, even outside of the upcoming Veterans Day holiday.
"Someone will come out and talk about VA benefits, or we will have meetings once in a while to talk about activities that we can do like attending a hockey game," he says.
GreenFields will pay tribute to the campus veterans with several events leading up to the Nov. 11 holiday. A patriotic salute, Veterans Day program and happy hour, and a special veterans breakfast are on the activity calendar for the senior living community.
"We are honored to have so many veterans residing at GreenFields of Geneva," says Kathy Barber, GreenFields of Geneva Manager of Lifestyles. "Our Veterans Day program is just a small token of appreciation that we can offer to the men and women who have served in the armed forces."
O'Connell graduated from Iowa State University in 1952 and immediately enlisted in the Navy where he eventually earned his commission and pilot wings. He flew anti-submarine patrols along the Korean coastline from his base on Iwakuni, Japan.
He finished his time in the Navy in 1956 and became a pilot for United Airlines, a job he kept for 35 years. During his 10 years in the Navy reserves, he was deployed to Christmas Island in the Pacific Ocean from 1961 to 1962 when atomic weapons testing took place. His mission was to drop leaflets to warn passing ships to steer clear of the area due to possible radioactive contamination, he says.
For O'Connell, however, it wasn't Christmas Island that was interesting as much as his time flying when he was stationed in Kodiak, Alaska.
"We would fly over the Alaskan chain of islands and take photos to track volcanic activity and to map ice flows of the northern Pacific Ocean for a geodetic survey group," he says.
It is clear that throughout his decades of flying, O'Connell truly enjoyed his time in the wild blue yonder.
"Flying gets into your blood and there is a lot of camaraderie among the crew members," he says.
Now in his retirement years, O'Connell's camaraderie comes in the form of the veterans group at GreenFields, his weekly worship and fellowship, and with his peers on the building and ground committee at the senior living community.
"I like it very much here," he says. "The food is excellent and there are 17 miles of walking trails here. There is always something to do."
For more information about GreenFields of Geneva, call 630-232-9105 or visit http://www.greenfieldsofgeneva.org.
About GreenFields of Geneva
GreenFields is an exceptional LifeCare community offering an ideal location, a wonderful retirement lifestyle. GreenFields offers independent living, assisted living, memory support, rehabilitation and skilled nursing, with the most comprehensive plan available for long-term care if ever needed. For additional information, visit http://www.GreenFieldsOfGeneva.org.