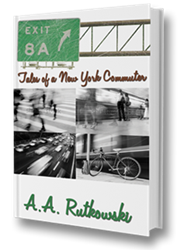 Always be yourself, express yourself, have faith in yourself, do not go out and look for a successful personality and duplicate it.
(PRWEB) November 10, 2015
Traffic is such an integral part of every day for a New Yorker that streets without congestion and buses with free seats seem almost suspicious. Those that experience the daily traffic jams and crowded public transit grow accustomed to chaos, often turning inward to cope. However, with Exit 8A, author Alice A. Rutkowski makes a strong case for altering this behavior; she urges readers to take a small amount of time and energy to focus outward, and reap surprising benefits.
Exit 8A is comprised of eighteen hopeful stories for readers who struggle with the tedium of the daily grind. Inspired by true events from her own daily commutes in New York City, Rutkowski gives new life to the tiresome endlessness of trains, buses, and city streets. Her stories are witty reminders that becoming more conscious during seemingly mundane events can garner surprising benefits.
Exit 8A is taking a ride with Rutkowski as she turns her bland commute on its head and discovers how to wake up, so to speak. Many people are asleep to the things around them, but by staying present and open they can learn that there are endless possibilities. Rutkowski shows readers that staying alert makes travelers available to face their demons, find love, and perhaps even affect someone else's experience. This leads to understanding that any and every day can be meaningful, provided that we are willing to look up from our cellphones or tablets to actually see and appreciate it.
Alice Rutkowski urges us to remember that something enriching can happen within our daily routine. With Exit 8A she gives us some of her own perspectives as an example, demonstrating that it only takes a moment to absorb what's going on around us- but that moment we take can mean all the difference.
Alice Rutkowski:
Alice A. Rutkowski, Ph.D., has been nicknamed the "People Whisperer" for her uncanny ability to quickly read and respond to others. She is an entrepreneur, speaker, and performance coach with an expertise in body language. She has touched the lives of thousands of people from all walks of life, and is known for her warmth and humor. Dr. Rutkowski is regularly featured on radio, television, and in various newspaper articles.