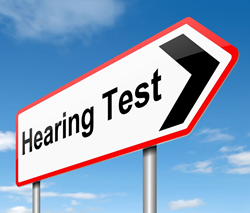 Brooklyn, NY (PRWEB) November 11, 2015
Despite the fact that around 37.5 million adults have some form of hearing loss in the US, only 20 percent of those who could benefit from hearing aids actually use them. And of those that do wear hearing aids, they wait an average of five to seven years before actually purchasing them.
The question is why people are waiting so long, especially when several studies have shown that people are generally satisfied with the performance of their hearing aids. For example, a recent MarkeTrak consumer satisfaction survey found that, for consumers with hearing aids four years of age or less, 78.6% were satisfied with their hearing aid performance.
But instead of asking why people wait to get a hearing test, Audiology Affiliates asked a different question. They asked what the reasons were that prompted people to finally schedule a hearing test.
According to Audiology Affiliates, if people understood the top reasons why people finally scheduled a hearing test, they may be more likely to do the same. With that in mind, here are the top five reasons why people schedule hearing tests.
The first reason is the inability for people to hear their grandchildren. The voices of children tend to be higher-pitched, making it difficult for those with high-frequency hearing loss to hear. People recognize they're missing out on what their grandchildren are saying and this is a strong incentive to correct their hearing.
The second reason is strained relationships. Many people wait to schedule their hearing tests after their spouse reaches a breaking point of frustration. After a while, the constant repeating and misunderstandings usually prompt a hearing test.
The third reason is the tendency for hearing loss to make the person feel left out. Hearing loss can lower an individual's confidence and inhibit interaction, leading to a path of social isolation and depression for some.
The fourth reason is being unproductive at work. Not being able to hear during an important meeting can be embarrassing and can negatively affect job performance. That's why, according to the Better Hearing Institute, wearing hearing aids is correlated with high income.
And finally, the fifth reason is a concern with overall health and well-being. Hearing loss has been recently linked to several serious conditions, including dementia, and many patients improve their hearing to preserve their physical, mental, and emotional health.
The full article can be accessed here: 5 Good Reasons to Get a Hearing Test.
About Audiology Affiliates
Audiology Affiliates has served the Brooklyn, New York area and its surrounding communities for years. They are pleased to offer a full range of diagnostic and preventative hearing healthcare professional services including hearing aid screening, hearing evaluations, hearing aids and accessories, rehabilitative counseling, and preventive care advice.
Contact:
Dennis L. Kisiel, Ph.D
Audiology Affiliates
http://www.kisielhearing.com