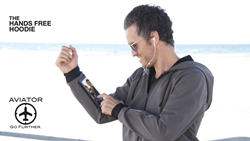 We designed our Hands Free Hoodie to free up your hands for everyday living and to make travel more convenient, because you always seem to have one too many things to carry when checking in.
Los Angeles, CA (PRWEB) November 10, 2015
Aviator today launched its Kickstarter campaign to introduce its newest travel and convenience Hands-Free Hoodie that will change the way people handle their most important items – including smartphones, tickets and transit passes.
Each jacket features innovative "clear touch" forearm sleeve pockets made from a durable vinyl that is thick enough to protect valuables, but thin enough to allow the operation of any phone by touch. The sleeve pockets are designed to hold smartphones, ski-lift tickets, transit-cards and more. With the smartphone positioned in the clear touch sleeve, users can now board planes by just turning their forearm to have their e-ticket scanned.
"We designed our Hands-Free Hoodie to free up your hands for everyday living and to make travel more convenient, because you always seem to have one too many things to carry when checking in," said Aviator Founder Colby Kane. "Now you can have your boarding pass in a sleeve pocket the with scan code facing out and get it scanned while holding your coffee in one hand and your carry-on in the other."
Travel is just one of the many applications of the Hands-Free Hoodie:

It's also great for making a smartphone scan purchase – just turn your forearm and scan
For lift tickets on the slopes
For walking the to the stadium for a concert or sporting event with your ticket for scanning in one sleeve and your smart phone in the other
For transit passes – always have them handy in your sleeve
For quick access to your smartphone – it's always on your forearm and you can message, call, browse, take selfies – do everything without having to take your phone out
Sleeve pockets fit almost all smartphone sizes including iPhone 6Plus and Galaxy S6+
Frees up clutter purses and pocket space – now you have your smartphone and most important documents (tickets, passes, passport) in sight on your forearm
Additional "on-the-go" features include:
Sleeper Hood (great for travel and transit)
Chamois Micro-Fiber Screen Cleaning Cloth
YYK Black Coil Zipper
Three Way Cuffs That Can Be Worn Standard, Fingerless, Or Full Mitten
Protective pocket inside the jacket for valuables that are best kept out of sight.
All pockets are designed with earphone accessibility.
The Hands-Free Hoodie comes in two designs; an all-weather fleece that protects wearers from wind, rain and snow, and a cotton fleece designed for the ultimate in comfort and mobility. The Hands-Free Hoodie is the newest in a very successful line of functional, comfortable, stylish and top quality apparel from Colby Kane.
The jackets come in men's and women's sizes and are backed by a lifetime guarantee. Visit the Hands-Free Hoodie Kickstarter Campaign to see early bird specials.
About Aviator:
Our goal at Aviator is to create a brand for people on the go by designing clothes that combine function, comfort, and style. Aviator is unique in that it bridges the gap of active wear and traditional sportswear. We cut out the middle man and offer amazing value to our customers without the traditional markup.
About the Founder:
Founded by Colby Kane, a designer and art director who grew out of the fast-paced world of NY Fashion as an art director at Macy's to build something different in LA where he could balance work and family, surround himself with the things that are important and give back to his community. Aviator is that "something" that Colby was aiming to build which he discovered through his life experiences. Colby Kane has a passion for scouring the world to find amazing fashion trends, materials, and ideas that can be locally made in Los Angeles, provide great value and by selling directly to his customers. Colby launched Aviator on Kickstarter in June of 2013 with The Red Eye Hoodie and received accolades for his work. He then followed up with the launch of The First Class Hoodie which again, has proven to be a big success.