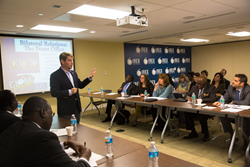 I wish this seminar had been made available on day one when I arrived in Washington, DC. It would have saved me a lot of time and made me more productive.
Washington, DC (November 6, 2015) (PRWEB) November 11, 2015
First approaching a high-level official at an embassy or in Washington is often not the most effective way to impact American foreign policy, according to two leading experts on international affairs. Brett Bruen, former White House Director of Global Engagement and President of the Global Situation Room, said countries, companies, and causes often fail to build up sufficient support at the base of US diplomacy, where leaders turn for advice and decisions are implemented. Veteran international consultant Riva Levinson, President and CEO of KRL International, told a seminar last week to think beyond just pitching a parochial point of view. More than passing on talking points, she told participants to become valuable sources of insights and information for staff in the executive and legislative branches on a broad range of issues.
"Some people come to Washington, DC and think that contacts are their currency, but influence can only get you so far," said Levinson, who advises world leaders, including Liberia's Ellen Johnson-Sirleaf. "Your real currency is the unique perspective you hold, the credibility of your voice and information, and the power to speak to what people care about; what's on their agenda."
Bruen and Levinson headlined a seminar attended by a number of foreign embassies, multinational companies, foreign correspondents, and global organizations. Held at the international development organization IREX in Washington, DC, the event provided participants with a range of perspectives on the inner workings of American diplomacy. The training went the length of the foreign policy process, from the operations of embassies in the field to the role of the US Congress. International experts shared skills and strategies to effectively work through the process including with the media, think tanks, the diaspora and non-governmental organizations. Bruen, who spent twelve years in the diplomatic service, said the course would also help US diplomats.
"I encountered countless organizations in my career that were addressing their issue at the wrong time, in the wrong setting, to the wrong person. No one had the time to fully explain how our process really works to them. This seminar will ensure that there are fewer missed opportunities and our country is making the most well-informed decisions possible," he added.
"I thought it was a much needed workshop on the nuances of the State Department, Congress and U.S. Foreign Policy," said a participant who leads an international organization. "KRL and Global Situation Room's presentations were excellent.
"I wish this seminar had been made available on day one when I arrived in Washington, DC. It would have saved me a lot of time and made me more productive," remarked a corporate executive after the program.
The next seminar, to be co-hosted by both consulting firms, will be held in the first quarter of 2016.