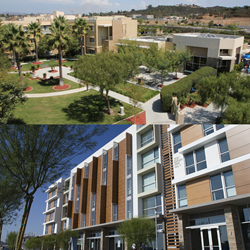 We are honored to manage University Village Apartments and The QUAD housing communities at CSU San Marcos and excited about providing remarkable services to its student residents. Alton Irwin Chief Marketing Officer
Birmingham, Alabama (PRWEB) November 10, 2015
Capstone On-Campus Management (COCM) is pleased to announce its recent selection to assume management of University Village Apartments and The QUAD student housing communities, both serving students on the campus of California State University San Marcos (CSUSM). The two student communities provide housing for a total of 1,527 CSUSM students.
University Village Apartments, providing 638 beds of housing, is located directly on the CSUSM campus and is owned by an auxiliary organization of CSUSM. Living arrangements are two and four bedroom apartments, all fully furnished.
The QUAD, providing 889 beds of housing on a site adjoining the campus, is a privately owned, CSUSM affiliated community. Living arrangements are private and shared bedrooms, within two, three, and four bedroom apartments, all fully furnished.
COCM was awarded the management of the CSUSM student housing earlier in the year through a nationwide RFP. An important part of the selection process and the award/transition to COCM was CSUSM taking over the residential life services for both communities. This shared governance arrangement is one with which COCM has extensive experience, having introduced it in 2001, and currently operating under such an arrangement at 17 of the 29 campuses it serves.
About COCM
COCM is a company of talented housing professionals focused on providing management and consulting services for student housing owned by non-profits and/or highly affiliated with a university. As a result, the majority of communities managed are located directly on a college or university campus. Headquartered in Birmingham, Alabama, COCM currently provides management services for 26,135 beds at 29 campuses. For more information about COCM, please visit our website at: http://www.cocm.com and our blog at: http://www.studenthousingmatters.com.