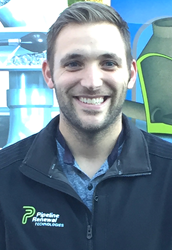 With the addition of Jordan to our sales team, we can strengthen relationships with current and potential customers
Randolph, New Jersey (PRWEB) November 10, 2015
November 4, 2015— Pipeline Renewal Technologies (PRT) is pleased to announce Jordan Eickelberger has been appointed the new Midwest Regional Sales Manager. His responsibilities include sales management and new customer acquisition, as well as coordinating rental and service requests across the Midwest region.
"I am excited to join a company so committed to innovative rehab technologies and responsive customer service," said Jordan Eickelberger, when asked about his new position. "Helping make pipeline rehabilitation operations productive and profitable is my specialty." Jordan comes to PRT with over 9 years of experience in the industry. Prior to PRT, Jordan worked at Layne Inliner as Assistant Technical Director.
"Jordan brings PRT extensive technical knowledge and longstanding industry relationships," said Mike Vislay, Director of Sales at Pipeline Renewal Technologies. "With the addition of Jordan to our sales team, we can strengthen relationships with current and potential customers— enabling us to sustain growth and new customer acquisition. We're looking forward to putting his capability and knowledge to work for us."
About Pipeline Renewal Technologies.
Pipeline Renewal Technologies is an Envirosight company focused exclusively on the pipeline rehabilitation market. The company offers technologies for no-dig structural lateral connection, lateral and lateral reinstatement cutting, durable point repair, and process measurement. A strong emphasis on support makes Pipeline Renewal Technologies the partner of choice for municipal contractors looking to gain a competitive edge with innovative technologies. Pipeline Renewal Technologies is a member of NASTT and NASSCO.