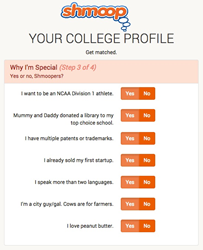 Our materials tackle every step of the process so students can feel confident that they're covering all their bases.
Mountain View, California (PRWEB) November 10, 2015
With college acceptance rates dipping as low as 5%, the pressure is on for students to nail their applications. Of course, everyone and their mother is capitalizing on that pressure, offering high-cost guidance to students who can afford it...and who even know the help is there to begin with. Shmoop (http://www.shmoop.com), a digital publisher known for its award-winning Test Prep and certified Online Courses, breaks the mold, offering free and accessible help to all students with an internet connection.
The first step: figure out where to apply. There's no need for students to break the bank applying to every college in existence when they don't even know anything about the schools. Shmoop's College Planning Tool will ask students a series of questions—from their parents' ability to donate a wing of the library to their penchant for milking cows—and will then provide a list of safety, target, and reach schools that fit the bill. From there, they can read an in-depth profile of each school on their list to get a feel for the school's personality. Preppy or crunchy? Nerdy or hipster? Gryffindor or Slytherin? And before they bite the bullet, students can use Shmoop's Cost of College Calculator to be sure that these schools won't have them paying loans until they're six feet under. (Spoiler alert: they will.)
At that point, it's time to start applying. Shmoop's College 101 offers articles like "Eleven Application Mistakes to Avoid," along with checklists, myths, and tips on everything from recommendation letters to interviews. Finally, there's the dreaded essay. Shmoop's College Application Essay Lab will walk students step-by-step through the process, providing tips and examples along the way so they end up with an essay that stands out from the (overwhelmingly large) crowd.
"Application help shouldn't be reserved for a select few," says David Siminoff, founder of Shmoop. "Our materials tackle every step of the process so students can feel confident that they're covering all their bases."
If students are looking for a different kind of boost, a Shmoop subscription will get them access to hundreds of Test Prep products and Online Courses, which will help them raise those test scores and strengthen that transcript before applying.
About Shmoop
Shmoop offers hundreds of thousands of pages of original content. Their Online Courses, Test Prep, Teaching Guides, Learning Guides, and interactive Study Tools are written by teachers and experts and balance a teen-friendly, approachable style with academically rigorous concepts. Shmoop sees 11 million unique visitors a month across desktop and mobile. The company has won numerous awards from EdTech Digest, Tech & Learning, and the Association of Educational Publishers. Launched in 2008, Shmoop makes the magic happen from a labradoodle-patrolled office in Mountain View, California.