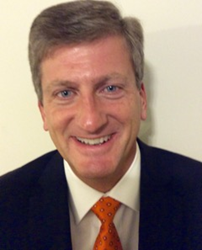 Ted is a proven leader with a reputation for driving growth and a relentless focus on providing value to utility customers.
Buffalo, NY (PRWEB) November 10, 2015
TROVE, a software company specializing in data science applications for the utility and other commercial industries, today announced that its Board of Directors has appointed Ted Schultz as Chief Executive Officer. Schultz succeeds Isaias Sudit, TROVE's Founder, who will assume the role of Chief Business Development Officer. The announcement comes as TROVE positions to support its continued growth trajectory.
"Ted is a proven leader with a reputation for driving growth and a relentless focus on providing value to utility customers," said Sudit. "He's passionate about our mission and committed to our success. I look forward to working with him as we enter this exciting next chapter."
Before joining TROVE, Schultz was Senior Vice President of Utility Solutions at Ecova, an energy and sustainability management company. He delivered double-digit top-line and bottom-line growth in his business unit prior to the sale of the company to GDF Suez. Previous to this, Schultz spent 13 years as VP of Marketing and Energy Efficiency with Duke Energy, where he launched a successful energy services business and pioneered an innovative business model that turns energy efficiency into a profit center for utilities.
"My passion is for driving what's next and accelerating the adoption of new business models and technologies," says Schultz. "TROVE is doing just that – leveraging predictive data science to transform the way companies do business. It's time to stop guessing. TROVE is at the forefront of this exciting field, with outstanding technology, an excellent team, and great momentum. I'm honored to lead the company."
Along with these changes, TROVE also announced the hiring of Saurabh Saxena as Vice President of Products. He joins the company with 20 years of experience developing software for the finance, telecom and energy industries, during which he used technologies ranging from large monolithic mainframes to the latest reactive programming and distributed processing to create solutions for complex computing challenges. Most recently, Saxena was Chief Technologist for eMeter.
"Saurabh has a great track record of transitioning bleeding edge technologies into hardened and valuable industry products," says Adam Stotz, Chief Technology Officer. "His product leadership skills, utility market insights, and techno-vative mindset are a perfect match for TROVE's growth trajectory."
TROVE is currently helping utility companies with data-driven applications for personalized customer portfolio management, load forecasting, revenue assurance, and demand-side management, plus customer engagement for subscription service companies. The addition of Saurabh Saxena as VP of Products, the move of Isaias Sudit to Chief Business Development Officer, and the appointment of Ted Schultz as CEO positions the company for continued innovation and growth.
About TROVE Predictive Data Science
TROVE delivers analytical solutions and data-driven insights to its customers. The company's multi-source data fusion technology combines internal customer data with over 2,000 attributes of external third-party data. TROVE's Sunstone Platform processes massive volumes of data, including structured, semi-structured, and unstructured data, as well as high-velocity streaming data. Its data scientists develop proprietary algorithms to observe data behavior and identify insights, providing value to customers through web interface tools. To learn more about TROVE, please visit our website at TroveData.com.