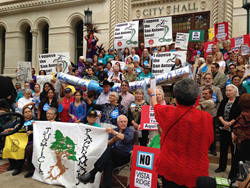 "SAWS' plan to use Vista Ridge water to become the regional water broker for unbridled growth in central Texas could backfire, leaving San Antonio ratepayers holding the bag for water they may not need for the foreseeable future."
Austin, Texas (PRWEB) November 10, 2015
It's not every day that rural conservatives unite with urban progressives. This is especially true in the quintessential red state of Texas. A 30 to 60-year plan for massive transfers of groundwater to San Antonio from distant aquifers in rural Burleson County, has ignited a populist movement uniting central Texans across partisan lines. The Vista Ridge Water Project, a public-private partnership between San Antonio Water System (SAWS) and the private consortium of Abengoa, S.A. and Austin-based Blue Water Systems, will deliver enough water for 375,000 future residents.
The 30-year contract's $3.4 billion price tag was passed unanimously by the San Antonio City Council more than a year ago. But as the Council prepares to vote on a 50% water rate hike by 2020, the first year of Vista Ridge, ratepayer concerns are adding to concerns already raised by some Council members. SAWS' reluctance to discuss future additional rate hikes is understandable, according to Michele Gangnes, a volunteer board member of the League of Independent Voters of Texas and a municipal bond attorney by trade. Gangnes said, "SAWS' plan to use Vista Ridge water to become the regional water broker for unbridled growth in central Texas could backfire, leaving San Antonio ratepayers holding the bag for water they may not need for the foreseeable future."
The San Antonio Express News reported on September 21 that San Antonio Councilman Ray Lopez complained that only San Antonio Mayor Ivy Taylor had access to a draft water policy report critical of Vista Ridge. SAWS' summarily dismissed the draft as flawed after it was leaked to the press. The Rivard Report, a San Antonio based independent media outlet, then raised concerns about how the peer-reviewed final report was "fixed" to seemingly support the views of the project's strongest advocates. City Councilman Ron Nirenberg has also questioned the project's regional impact and the potential for San Antonio to reverse its national reputation as a leader in water conservation.
Burleson County water will travel to San Antonio through a 142-mile pipeline. Local landowner, Gabbo Goetsch, a bronc-riding cowboy, has lately been riding his neighbors to fight Vista Ridge. Goestch said, "It's easier to blame the officials who have not protected us from water profiteers, but we ordinary citizens have to take responsibility, too. My water lease came with the land, but I didn't think that much about it when I bought some 8 years ago. I would love to get out of this lease, based on what I know today."
Goetsch was referring to a report by respected hydrologist and former Edwards Aquifer Authority board member, George Rice. The Rice Report used state-approved modeling to predict water level drawdowns of up to 400 feet over multiple counties from Vista Ridge alone, irrespective of baseline or other proposed pumping from the aquifers. The drawdowns would violate currently established regulatory limits, requiring cutbacks at some point in the contract.
Goestch came with a busload of rural Texans carrying thousands of signatures on a petition urging Texas Governor Greg Abbott, a host of state officials and the San Antonio City Council to "Stop San Antonio's Vista Ridge water project and all other efforts by the Texas real estate lobby and its political allies to employ the 'California water model' in Texas…a proven disaster".
The bus was greeted by a cross-denominational group of clergy, and a host of social and environmental justice organizations and leaders, including Maria Berriozabal. Berriozabal, a popular former San Antonio City Council member, said, "We have been fighting for years to protect our own great Edwards Aquifer as the source of our drinking water. Now Vista Ridge may kill two aquifers with one stone. San Antonio residents could be forced to pay for some of the most expensive water in Texas, drained from our rural Texas neighbors and used to build over the Edwards' recharge zone."
Vanessa Quezada is one of the organizers of the event for Mi Agua, Mi Vida Coalition. Quezada, of the Kickapoo Nation, brought together a group of clerics to lead the group in prayer following a traditional Native American sage and smudging ceremony. Quezada said, "This event held special meaning for me because my people have lived in harmony with our lands for thousands of years. Water is life. The veins of Mother Earth must be protected. The future generations depend on the actions we take today."
The event was sponsored by the League of Independent Voters of Texas and San Antonio based, Mi Agua, Mi Vida Coalition. LIV recently released a 17 minute in-depth video on Vista Ridge, "I Oppose the San Antone Hose" featured on their website at http://www.StopWaterGrab.org, and is the sponsor of the "Stop Vista Ridge and Make Growth Pay for Itself" petition.
###
The League of Independent Voters of Texas is a non-partisan, nonprofit, all-volunteer organization whose mission is to organize Texans in the fight for what is uniquely Texan -- a people tied to our land, our water, our clear blue skies and the democratic republic for which we are supposed to stand.
Mi Agua, Mi Vida Coalition is on Facebook.