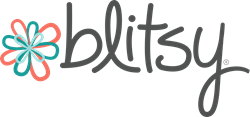 "Our online HoliDIY Hub is a place for Black Friday sneak peeks, inspiration, and opportunities to win big."
Chicago, IL (PRWEB) November 10, 2015
Online crafts retailer Blitsy launched their first "HoliDIY Hub" - an inspiring curation of the newest craft supplies, holiday how-to videos and exciting daily giveaways, including ten prizes of "free craft supplies for a year."
The HoliDIY Hub features gift guides for all types of crafters this holiday season. On top of great deals, the hub offers crafters the chance to snag a pair of coveted Golden Scissors, qualifying a grand prize winner to win $1,000 in craft supplies and ten runner-ups to win free craft supplies for a year.
For advanced crafters, Blitsy has created a special contest, The Ultimate HoliDIY Crafter, which will award over $600 in prizes based on submissions receiving the most votes from the Blitsy community.
"We're keeping Black Friday fun and exciting for crafters around the world." said Katy Weade, Blitsy's Chief Creative Officer. "Our online HoliDIY Hub is a place for Black Friday sneak peeks, inspiration, and opportunities to win big."
Through daily giveaway bundles leading up to Black Friday, Blitsy's biggest sale of the year, the company will also provide a sneak peek at some of the crafty deals they've got in store.
The HoliDIY Hub is just the first part of Blitsy's extensive holiday crafting offerings.
"We'll be kicking off our Black Friday sale with a Live Stream Pajama Party on Blitsy.com, having fun with all of the crafters who want amazing deals without fighting the large crowds," said Meghan Quinones, Blitsy's resident craft expert. "We'll be handing out Golden Scissors and interacting live with Blitsy shoppers. Come join the fun!"
Black Friday will kick off a full weekend of deep discounted deals on the season's newest and most in-demand crafts supplies continuing through Cyber Monday - which will offer even more great craft deals added to the selection.
Blitsy.com's Black Friday sale will launch at 12:00am CDT on November 27. The sale will last for four days or until items are sold out. New deals will be posted Saturday, Sunday, and Cyber Monday.
For more details and promotion information visit http://www.blitsy.com/holiDIY-hub.
About Blitsy
Blitsy, your MUST-go source for crafting, is an innovative e-commerce company changing the way creative people worldwide buy arts and crafts supplies. Through highly curated sales events combined with high-quality video lessons featuring industry experts, the company is a source of inspiration for beginning and expert crafters alike as well as schools and other community-based organizations interested in buying crafting supplies in bulk at extraordinarily competitive prices.
For more information visit https://blitsy.com/ or download their mobile app via the App Store.