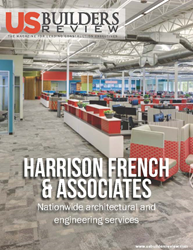 I'm very proud to say that we have fostered great learning environment, working together which continues to generate an efficiency that is a distinguishing characteristic of our successful business model
Bentonville, AR (PRWEB) November 11, 2015
U.S. Builders Review article discussed the key factors that influenced the successful growth experienced by HFA over the past 25 years. Built on a foundation of exceptional client service and building long term relationships has fueled the firm's growth to rank among the top five retail architects in the country, as reported by Architectural Record. "It's been a true story of someone who started out small and through the wise business decisions was able to grow," says Chris Horton, P.E., Executive Vice President.
The article explores growing organically and value that provides their leadership going forward and the positive impact of investing in the creative design of their award-wining, headquarters office building that incorporates advanced technologies supporting sustainable LEED Gold CI design. The renovated reuse of a former retail home center, has transformed the culture of their firm to facilitate greater collaboration among professionals and transparency of the leadership with staff. "I'm very proud to say that we have fostered a great learning environment, working together which continues to generate an efficiency that is a distinguishing characteristic of our successful business model," says Larry Lott, AIA, and Chief Operations Officer of the firm.
While the firm has flourished by serving national retailers across the country, diversification by serving clients located in their community is an important factor to the firm. "Although most of our regional and national retail work is based on a fairly consistent corporate design, we have very talented individuals on our staff who are excellent designers and understand what it takes to work with a client and produce a project unique to the client's own needs and circumstances," says Harrison French, AIA, CEO and Founder.
Undoubtedly, having the firm featured in a national publication has been a proud moment in the growth of the firm. They are not resting on their recent success. They are looking ahead to the next 25 years to see where their formula for success will take them next.
##
About HFA (Harrison French & Associates, LTD) is a multi-disciplinary design firm providing Architecture, Interior Design, MEP Engineering, Fire Protection, Fueling Design, Structural Engineering, Civil Engineering, and Landscape design services to the retail, commercial and assisted living markets throughout the U.S. and holds professional licenses in all 50 states; and the District of Columbia.