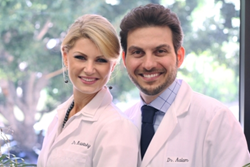 "The technology is so simple and utilizes the body's natural ability to regenerate and heal," said Dr. Aalam
Los Angeles, CA (PRWEB) November 16, 2015
Following a tooth extraction, such as a removal of an impacted wisdom tooth, some patients suffer from a condition called dry socket, which occurs as a result of the open space in the gum failing to heal properly. The bone and nerves where the tooth was pulled are then exposed to liquid, food, and air, resulting in painful sensations, as well as a high potential for infection. Now, periodontists can prevent this condition and others like it by using advanced platelet-rich fibrin (APRF).
Dr. Alexandre-Amir Aalam and Dr. Alina Krivitsky at the CENTER for Advanced Periodontal & Implant Therapy have extensive experience using APRF in their practice to prevent and treat serious conditions and damage to the gums and now provide APRF treatment for wisdom tooth removal with the No Dry Socket treatment.
"As the first two periodontists in the U.S. to learn this regenerative treatment option, Dr. Krivitsky and I have years of experience working with platelet-rich fibrin technology and use it to its full potential," said Dr. Aalam. "It's a true game-changer as far as repairing gum tissue. We have even developed a specific APRF treatment called RejuvaGum Lift ™ using platelet-rich fibrin to repair receded gums."
Platelets are a type of blood cell that creates blood clots and triggers the body's natural healing process when an injury occurs. APRF is created using a patient's own blood, which is placed in a centrifuge for several minutes in order to separate the red and white blood cells from the platelet-rich fibrin. The APRF can then be placed in a problem area, such as an open socket following a tooth extraction, to promote healing as soon as possible and prevent issues, such as dry socket, from occurring in the first place.
"Our patients are often wary about receiving treatment, even if it is necessary to remove a tooth. But with APRF, we can assure them that the recovery time will be much shorter than in previous years, and the results are much easier to control," added Dr. Krivitsky.
Platelet-rich fibrin is a revolutionary, cost-effective treatment option that can be used in a wide range of periodontal surgery procedures, such as sinus augmentation, gum grafts, and dry socket repair.
"The technology is so simple and utilizes the body's natural ability to regenerate and heal," said Dr. Aalam. "We can create APRF for a patient in less than 15 minutes and achieve amazing results every time."
Dr. Alexandre-Amir Aalam and Dr. Alina Krivitsky are board certified Brentwood periodontists specializing in dental implants and gum and tissue diseases. They opened the CENTER, a periodontal office focused on providing patients with excellent and skilled care at affordable prices, with the goal of restoring oral health and aesthetic appearance. They are alumni of the prestigious Ostrow School of Dentistry at USC and are still heavily involved in academia and giving back to future periodontists at USC. They are also the only two board-certified periodontists in the Brentwood area of Los Angeles.
If you or someone you know is interested in scheduling an appointment at the CENTER for Advanced Periodontal & Implant Therapy, we encourage you to contact 310-826-8242 today.