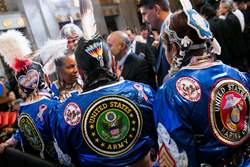 The importance of Women Warriors is laced throughout Native culture, carefully woven into the past.
Phoenix, AZ (PRWEB) November 10, 2015
Benefiting Arizona recently posted an article honoring female Native American veterans and their contributions to freedom, culture, language, and traditions. The article entitled, "Honoring Native Women Warriors," tells the story of Specialist Lori Piestewa, the first Native American woman in US history to be killed in combat, as well as those women that have served their tribes, communities, and country throughout history.
Native Americans have a long, proud history of dedicating their lives and careers to the US Armed Forces. In fact, Tribes have the highest per-capita commitment of any ethnic population defending the United States. Today, Native American service in the Armed Forces often evokes memories of the Navajo Code Talkers and iconic soldiers such as Gila River Indian Community Member Ira Hayes, who raised the flag at Iwo Jima. What are often missed are the contributions Native American women have made to protect the freedoms enjoyed by all Americans.
These "Women Warriors" have fought for the rights of their people for centuries, often without glory or recognition. Today, over 18,000 Native American women serve in the various branches of the US Armed Forces, assuming many of the military tasks that have traditionally been reserved for men including commanding troops, operating military vehicles and aircraft, and engaging in combat. Their service speaks to a strong family and tribal military tradition that spans across the Vietnam War, World Wars 1 and 2, and even as far back as the Civil War.
Warriors are honored by both families and Tribes in Native American traditions across the country. "The importance of Women Warriors is laced throughout Native culture, carefully woven into the past," Native American Studies Professor Patty Loew stated. "Today it remains a vital part of contemporary Native life and is likely to remain for generations to come." Service to tribe and country is the essence of Women Warriors, bringing with it a sense of pride and accomplishment. They are respected and revered members of the community and are seen as heroes.
To read the article in its entirety, visit http://benefitingarizona.org/honoring-native-women-warriors/
About Benefiting Arizona
Benefiting Arizona is a grass roots organization of individuals, businesses, Tribes, not-for-profit, and for-profit organizations who recognize the many benefits experienced by the people of Arizona as a result of the current Tribal-State gaming compacts. This government-to-government partnership provides opportunity for Tribes and all Arizonans. For more information, visit http://www.BenefitingArizona.org.
About the Arizona Indian Gaming Association
AIGA has a membership of 18 tribes representing more than 90% of the Indian people living on reservations in Arizona. AIGA was established November 21, 1994 by Arizona tribal leaders. The Association is committed to advancing the lives of Indian peoples – economically, socially and politically – so that Indian tribes in Arizona can achieve their goal of self-reliance. Current membership includes: Ak-Chin Indian Community, Cocopah Tribe, Colorado River Indian Tribes, Fort McDowell Yavapai Nation, Fort Mojave Indian Tribe, Fort Yuma- Quechan Tribe, Gila River Indian Community, Havasupai Tribe, Hualapai Tribe, Kaibab-Paiute Tribe, Navajo Nation, Pascua Yaqui Tribe, Salt River Pima-Maricopa Indian Community, San Carlos Apache Tribe, Tohono O'odham Nation, White Mountain Apache Tribe, Yavapai Apache Nation and the Pueblo of Zuni. For information about AIGA visit http://www.azindiangaming.org.