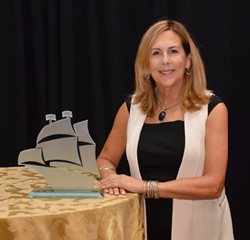 (PRWEB) November 11, 2015
The award is named in honor of the late Joyce Derrick, who enjoyed a 20-year career as vice president of operations for a California Mayflower agency. She is remembered for her concern for her associates, her fellow Mayflower agents and especially van operators. The Joyce Derrick Award, presented by UniGroup, Inc., began in 1994 and is awarded annually to a single individual who best represents the principles of quality, integrity, and strength of character exemplified by Joyce.
As this year's recipient, Blaine joins the ranks of just 16 other esteemed individuals.
The selection of Blaine was announced by Mayflower CEO Jim Powers at the van line's recent convention held in Scottsdale, Arizona. In his recognition of Blaine, Powers said, "her passion for providing clients with a first class moving experience from beginning to end truly sets the bar for the Continental. She keeps her team focused on constant improvement in all service areas while seeking out new growth opportunities for Continental."
Blaine's commitment to Continental's quality permeates every facet of the company's practices, from the top down. In appreciation of Blaine's work, Continental's Director of Business Development, Jeff Rowlee stated, "her commitment to our agency's core values; honesty, integrity, teamwork, & dedication to excellence, is the foundation of our agency's culture and evident in her daily interactions with UniGroup, our agency family, local office personnel, and drivers alike." Continental's Tacoma Manager, Bob Leale, echoed Rowlee's comment by saying, "on occasion, customers have unique circumstances and situations that require us to be quite creative. Blaine has shown by example how to go the extra mile and provide those customers with great service no matter the obstacle."
Having taken over as Vice President in 1987, Blaine's leadership has fashioned Continental into a leading model of professionalism and customer service in the moving and storage industry. The company has achieved both Best in Class agency status numerous times, as well as the Fleet Safety Award within the Mayflower Transit system. Continental continues to expand its customer base to serve individual families, small companies, and huge corporations alike throughout the country and internationally.
About Continental Van Lines, Inc.
Continental was established in 1952 as a family-owned business that specialized in moving household goods to Alaska. Since then, the company has opened offices in Seattle and Tacoma, Washington and expanded into interstate moving throughout the lower 48 states and Hawaii, as well as international relocations. With their company values of honesty, integrity, teamwork, and dedication to excellence, Continental strives to provide quality, reliable moving services to individual families, small companies, and huge corporations alike throughout the country and internationally. Now headquartered in Seattle, Continental is still under the same family ownership and management now in it's third generation.
For more information about Continental's services please visit: [Continentalvan.com
About Mayflower Transit
Mayflower is America's most recognized and trusted moving company. Mayflower offers a full range of moving services from full-service to do-it-yourself moving and storage. With headquarters in suburban St. Louis, Mayflower maintains a network of 300 affiliated agencies. For more information about Mayflower Transit and its services, visit: Mayflower.com.