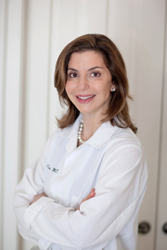 "It is a great time for patients who want to non-invasively reduce fat underneath their chins," said Dr. Isaac
Washington, DC (PRWEB) November 12, 2015
CoolSculpting has announced the FDA approval for its new CoolMini applicator, and Dr. Isaac of MI-Skin Dermatology in Washington, DC will be one of the first to offer this new technology to her patients who want to non-invasively reduce their chin fat. CoolMini is the first device of its kind to offer submental chin fat reduction without the use of surgery or needles, and it requires no downtime following a procedure, making it ideal for patients who don't have time to spare for lengthy recovery times or who are hesitant to undergo more invasive procedures to reduce the appearance of their double chins.
"I am excited to finally be able to offer my patients a completely non-invasive means to contour their chins through submental fat reduction," said Dr. Isaac. "Previously, liposuction and the recently FDA approved Kybella, which requires needle injections, were the only ways to reduce chin fat for patients."
CoolMini can be used for other small areas of fat besides the chin, such as the armpits or knees, as well. The applicator is designed specifically for very small areas of fat that in the past were difficult to treat non-invasively. It uses the same proprietary cryolipolisis technology as CoolSculpting, with the same levels of fat reduction - generally, patients can expect around a 20% decrease in fat after one session. Multiple sessions can be planned to reach patient's goals if one treatment isn't enough.
"The chin, armpit, and knees are all areas that traditionally do not respond well to diet or exercise alone," explained Dr. Isaac. "CoolMini provides an opportunity to reduce these fat pockets in a safe, effective, and non-surgical manner."
CoolMini does not provide skin tightening, but can be combined with skin tightening procedures such as Ulthera or Exilis for comprehensive chin contouring. Following a CoolMini procedure, patients can return to their everyday activities immediately, although they may experience some bruising, swelling, redness, or numbness around the area treated. The clinical trials that led to FDA approval of the CoolMini applicator showed a high rate of effectiveness and patient satisfaction.
"It is a great time for patients who want to non-invasively reduce fat underneath their chins," said Dr. Isaac. "With Kybella and now CoolMini, patients have more options than ever for submental fat reduction."
Dr. Melda Isaac is a board-certified dermatologist located in Washington, DC. Her practice, MI-Skin Dermatology Center, is a comprehensive skin care practice which offers the latest and most advanced state-of-the-art technology to improve the skin's appearance. Dr. Isaac obtained her medical degree from Penn State University, and completed her dermatology residency at George Washington University. She is an active member of the American Academy of Dermatology, the American Society for Dermatologic Surgery, the Women's Dermatologic Society, the American Society for Laser Medicine and Surgery, and the Washington, DC Dermatologic Society.
You can find out more about Dr. Isaac and MI-Skin Dermatology Center at http://www.mi-skin.com.