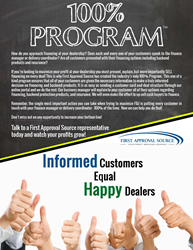 Buford, GA (PRWEB) November 11, 2015
No other Profit Services or Financial Services company will guarantee F&I results. First Approval Source, with the launch of their new website, also introduces the industry's only "100% Program", committing to contact 100% of dealership buyers, whether cash or finance with the intent of helping potential cash buyers to recognize the true economic value of financing their vehicle and also assisting all buyers to ensure their future vehicle satisfaction with extended warranties, GAP and other insurance products.
"Boat and RV buyers assume, far too often, that cash is king and that refusing insurance products saves money," explains Jeff Backus, Vice President of First Approval Source. "While there may be instances where either or both of these beliefs may be true, far more often, once shoppers understand the true economics of their purchase, and the real value in protecting their purchase, they will finance and welcome protective products. Dealers do their customers a grave disservice when they fail to fully explain all the options to every one of their prospects."
First Approval Source now offers dealers a program through which they will contact every potential buyer and review the economics of the purchase and present a full menu of protective products. Unlike other Financial Service providers, who will speak only with buyers interested in financing their purchase, First Approval Source assists dealers by speaking with, at the dealer's discretion, all of their customers regardless of whether they have indicated a preference to a cash purchase or a finance option.
With the addition of the"100% Program", First Approval Source also becomes the only profit and financial services provider to offer guaranteed results.
"If we are not willing to stand behind our performance, what service are we really offering?" asks First Approval Source Chief Operating Officer, Myril Shaw. "We are ready to sit down with each one of our dealers, examine their performance and then make guaranteed commitments as to how we can either improve performance or decrease cost - or both. If we can't do this, why partner with us, or anyone else?" Mr. Shaw continues, "Of course, this is a two way street. We lay out the behaviors that we expect from the the dealership personnel that are needed for us to meet our guarantee - and we expect the dealership to cooperate. The goal here is to increase dealership profits - so there is great motivation to cooperate."
The new First Approval Source website launched this week highlights these programs, as well as all the advantages offered can be viewed at http://firstapprovalsource.com. With a new look and feel, a fully adaptive architecture and links to complete details of all First Approval Source offerings, the new website provides an exciting view of the industry's only profit services company.
First Approval Source, an MRAA Premier Partner, will be at MDCE 2015 in Orlando Nov. 15-18 (Booth 710) and will be be presenting in the Sales Track at the conference at 10:30AM on Wednesday, Nov. 18. - "Fumble to Flawless - The Transition from Sales To Finance".