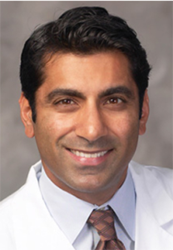 "The use of this technology can really help to improve accuracy and precision while performing both routine and complicated spine surgeries," said Dr. Khurana
Los Angeles, CA (PRWEB) November 11, 2015
Developments in medical technology, like minimally invasive spine surgery and robotic surgery techniques, have greatly improved the treatment options and patient outcomes for conditions like degenerative disc disease, spinal stenosis, and spine trauma, by giving surgeons greater flexibility, dexterity, precision, and control.
With advances in consumer wearable technology, like Fitbit fitness trackers and Google Glass, medical researchers are finding new ways to bring new technology into the operating room, for even better results on established surgical procedures, and to find new ways to treat old conditions.
Recently a team of researchers from Nottingham Trent University and Nottingham University Hospital NHS Trust in the United Kingdom tested a Google Glass-like device to relay patient information directly to the lead surgeon in real time during a selective dorsal rhizotomy, a complicated surgical procedure used to treat children with cerebral palsy. Under the current version of the procedure, the surgeon must rely on a colleague to relay critical patient information secondhand from a separate screen in the operating room.
"The use of this technology can really help to improve accuracy and precision while performing both routine and complicated spine surgeries," said Dr. Sanjay Khurana, a prominent Los Angeles spine surgeon. "The more information a surgeon has access to in real time, the better the overall outcome."
Using an exterior-facing camera on an optical head-mounted display unit, the surgeon can directly interpret patient data without looking away from the surgical field to get critical information while operating. In the cerebral palsy procedure in particular, which requires severing two-thirds of the nerve root to improve muscle stiffness in a child's limbs, the added focus is imperative.
"At Los Angeles Spine Group, we prioritize minimally invasive spine surgery and treatment procedures that will help our patients to heal, and return to normal activity as quickly and as comfortably as possible. Any new technologies that can help us to accomplish that goal are a welcomed addition to the field," added Dr. Khurana.
Dr. Sanjay Khurana is a board-certified and fellowship trained pediatric and adult orthopedic spine surgeon in Los Angeles. He specializes in minimally invasive and robotic spine surgery procedures with an emphasis on degenerative disc disease, herniated disc, spinal stenosis, scoliosis and spinal deformity, spinal instability, spine trauma, spine tumors and spondylolisthesis. Dr. Khurana completed his undergraduate degree at the University of California at Berkeley and his medical school and orthopedic surgery residency at The Stanford University School of Medicine. Dr. Khurana completed his combined orthopedic and neurosurgical training at the prestigious University of Miami / Jackson Memorial spine fellowship under the mentorship of Dr. Frank Eismont and Dr. Barth Green.
To learn more about Dr. Sanjay Khurana, please call 310.321-4333 or visit http://www.laspinegroup.com.