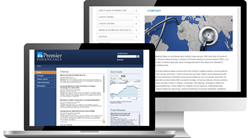 There's no doubt that many online information centers are struggling to demonstrate their worth.
Tarrytown, NY (PRWEB) November 10, 2015
InfoDesk, in cooperation with the Special Libraries Association's Pharmaceutical & Health Technology (PHT) Division, will present complimentary webinar, "How To Promote Online Information Resources" on Thursday, December 3 at 10:00 a.m. EST. Learn more-register online.
The webinar is designed to help information professionals, including librarians and knowledge management professionals, understand how to promote their online information services more effectively. Additionally, it will provide practical examples of promotions that attendees can adapt for their own use.
"There's no doubt that many online information centers are struggling to demonstrate their worth," said webinar moderator Sean Smith. "It's usually not because they lack great content, useful information resources or dedicated staffs. It's usually because they don't understand how to effectively promote their resources internally or demonstrate ROI." This webinar, he added, will help teach them how to achieve these goals.
The webinar will feature longtime PHT member, Andrew Clark, Director Scientific Information Services, UCB and Sean Smith, Vice President of Marketing at InfoDesk. They will share their experience with promoting online information services, providing the perspectives of both information professionals and vendors.
Topics will include the importance of setting reasonable goals and expectations, deciding on ownership and execution, creating the promotion efforts and timeline, understanding benchmarks and showing credible ROI.
Webinar attendees will learn about the challenges of changing user behavior, as well as how to set specific promotion goals and how to define and measure success. Attendees will also learn about selecting the proper channels and how to create effective messaging for those channels. Finally, the speakers will underscore the importance of execution and evaluation in developing credible ROI narratives.
This webinar was developed as part of the PHT Division's Continuing Education Programming. The complimentary session is open to all, but preference will be given to current PHT members. The webinar will be recorded and made available online following the event. Register now!
For more information please contact Sean Smith at sean(dot)smith(at)infodesk(dot)com.
###
About InfoDesk
InfoDesk specializes in information management solutions that help organizations integrate, deliver and share content resources more quickly, cost effectively and securely. For more than 15 years InfoDesk has helped some of the largest multinational corporations, top government agencies and media companies integrate, deliver and share large volumes of information more effectively. InfoDesk is based in Tarrytown, NY with offices in London and Washington DC.
About PHT
The Pharmaceutical and Health Technology (PHT) Division of the Special Libraries Association (SLA) provides a forum for the exchange of information and ideas among individuals interested in the collection, storage, retrieval, analysis, and dissemination of information in all aspects of the pharmaceutical, biomedical, biotechnical, cosmetic, medical device, and other health care fields. PHT is involved in all aspects of information science, as related to education, research, business and marketing in health care.