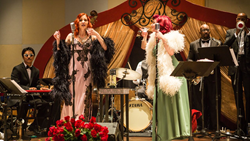 Women Blaze a Trail Differently… Spill your share of vodka and leave a pathway of feathers!
Rydal, Georgia (PRWEB) November 10, 2015
The team at Belles Organics is blazing into town in a convoy of shopping carts ready to toast the many women being recognized by Progressive Grocer for their leadership in the rapidly changing grocery industry. The brand was eager to participate in this year's event and share more than its award-winning organic cocktails with this gathering of grocery stores' top industry leaders, citing the decision was as much about adding fire to a movement as it was about showcasing the cocktails.
Belles Organics, the brand known for its sassy out of the box marketing of its in the box organic cocktails, is woman-led and family operated. The Founder, Jessica Flores, created the Georgia-based Belles Organics brand alongside her husband after the birth of the couple's third child. Claiming that was the first memorable time that she was tired long enough to recognize the unique demands and challenges faced by women trying to balance a growing career and family life. Her simple philosophy, "Girl, you're gonna need vodka for this," and ongoing effort to find herself some "me time every now and then" led her to develop the brand's non-apologetic persona and organic cocktail line. A decision remembered as, "A rather untimely and irrational one at that point in my professional life."
The brand, while serious about their cocktail making, has worked to deliver light-hearted perspective to its predominantly female audience since its beginnings. The grass roots team produced an entire comedic musical performance around that ambition on their own handmade stage to honor women in business at the Greater Women's Business Council's annual POP event in August.
The team's POP performance was said to be the best entertainment in the event's 15 year history – not surprising when considering that Flores has likely lived out those moments as a corporate climber turned entrepreneur herself. The Founder's response, "I'm fortunate to be surrounded by people who make me laugh, encourage my madness and allow me to spill vodka along the way… and then they write it all down and turn it into show tunes. It's a joy that should be shared with other women chasing their dreams and I appreciate the wonderful ladies at GWBC for letting us share their stage!"
When asked about this week's Top Women in Grocery event, Flores said, "Women blaze a trail differently and that's a great thing that should be closely cherished and openly celebrated. Progressive Grocer does a first class job of recognizing these leading ladies' professional accomplishments, I simply want to hand them a cocktail and sprinkle some feathers down the path for the next generation of women who may choose to follow, in honor of their journey!"
More information on Belles Organics is available on the website at http://www.bellesorganics.com, on Facebook at http://facebook.com/BellesOrganics, on Twitter at https://twitter.com/BellesOrganics, and tour videos on YouTube at http://www.youtube.com/bellesorganics. #FindYourInnerBelle
For all other information, including media inquiries, contact Jessica Flores at jess(at)bellesorganics(dot)com or (770) 382-5658.