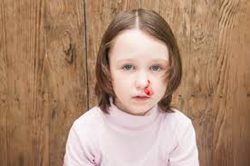 Invention stops most nosebleeds in 60 seconds.
Cottage Grove, WI (PRWEB) November 10, 2015
Nosebleeds. Nobody likes them. They are messy and frustrating and take people away from what they really want to be doing.
Nosebleed season for some starts in dry fall season and doesn't end until spring, for others nosebleed season is a frequent year long event.
It has been 1 year that Pharmacist/inventor, Greg Dockter, has been on the market with a solution for many that suffer from frequent nosebleeds. "Being able to stop most nosebleeds in 60 seconds has allowed me to take back that time I would normally be dealing with this frustrating situation," says Dockter.
For Mr. Dockter and his children, the nosebleed season is all year long. After suffering with frequent nosebleeds starting as a child and dealing with the frustration that comes with this problem, he now had a way to end his problem quickly. "I could just touch my nose and it would start to bleed, but I wanted to do things when I wanted to do things and did not want to have this problem get in my way" Dockter says. After getting things checked out by a doctor and even having his nose cauterized, still didn't end things. After being a pharmacist for close to 20 years he came across a patient that had a nosebleed. They were on a blood thinner and he knew it would take a while for things to stop. All he had to give to them was a tissue. As a healthcare provider, only having a tissue made him feel so inept, that he could not do anything more for his patient. Dockter stated, "I needed to create something to help my patients and my family to alleviate this problem quickly."
To stop nosebleeds, the standard way it to just tip the head slightly forward, while pinching the nose for at least 5 minutes. Now with the use of this invention you can cut that time down to as little as 60 seconds.
Along with being able to stop most nosebleeds in 60 seconds, Mr. Dockter's solution is also able to prevent the re-bleeding that comes with many nosebleeds. This restarting of the frequent bleeding in minimized by this product since a large clot does not form over the area of bleeding. It will just form a micro-clot at the surface of the skin so the re-bleeding will not happen from the large uncomfortable clot in the nose.
The invention, named DRxNoze® Nosebleed Relief, has been on the market for just over a year and has gained quite a following for those looking to change how nosebleeds are being treated. It is available for purchase at DRxNoze.com along with Amazon.com and select retailers. If you would like to have this available at your local retailer contact them to see how they get this in for your healthcare needs.