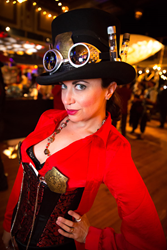 San Francisco, CA (PRWEB) November 11, 2015
The 16th Edwardian Ball returns to the Regency Ballroom Friday and Saturday, January 22 and 23, 2016. The inimitable, description-defying, high camp, whimsical and surrealistic two-day festival, called the #1 Steampunk Event in the World on Buzzfeed, is a living interpretation and celebration of the stories of the late macabre cult author, comic artist, illustrator and cartoonist Edward Gorey.
Gorey is considered a ground-breaking, genre–defying graphic novelist who is credited with influencing Charles "Addams Family" Addams, Lemony Snicket, Neil Gaiman (Coraline and Day of the Dead), Rob Reger (Emily the Strange), Alison Bechdel,(Are You My Mother?: A Comic Drama and Fun Home: A Family Tragicomic), and Tim Burton (Nightmare Before Christmas, Edward Scissorhands, and Beetlejuice).
The Edwardian Ball, described by the SFWeekly as, "Think Vintage Fetish meets circus theatrics meets industrial arts mayhem," blends live music, theatre, fashion and cosplay, circus, fine art, riveting stage shows, black comedy, science fiction, literature, ballroom dancing, and DJs into a whirlwind and enticing extravaganza set in a romanticized, gilded and gentile Neo-Victorian and Edwardian-era gothic and steampunk-tinged distant past that imagines an elegant alternate reality future. Other delightful attractions include the award-winning vendor bazaar, photo booth, mystical and nonsensical oddities, absinthe cocktails, steam machinery, parlour games, alluring sideshows, and much more. All ages are welcome.
This multi-city, multi-media exposition of the eccentric and esoteric the SF Bay Guardian calls a "Gothic, ghoulish and glorious celebration," has grown over the past fifteen years from an underground club party into an internationally recognized festival of the arts, drawing attendees from all over the world, operating with the blessing of The Edward Gorey Charitable Trust. 944 Magazine calls The Edwardian Ball, "An over-the-top, colorful, quirky, eccentric, whimsical-yet-elegant costume party doesn't even begin to describe the event."
Friday, January 22, 2016: "The Edwardian World's Faire"
Our two-night celebration unfolds with the renowned Edwardian World's Faire. Historic and novel characters intermingle; true-life adventures blend with fantastical lands; live the excitement of the age of exploration, reimagined through the lens of today and beyond. Get lost in our delightful Gaming Garden, where characters, tricks, and games of chance weave a backdrop to steam-powered creations and chance encounters. Revel in a modern day Belle Époque where cultures meet, blend, dance, and collide. A worldly adventure ahead of Saturday night's Ball, our World's Faire presents a once-in-this-lifetime adventure!
Saturday, January 23, 2016: The 16th Annual Edwardian Ball
Following our global adventure, we return to our Ballroom for the most decadent night of our season! This is the night that started it all, The Edwardian Ball, presented by co-hosts Rosin Coven and The Vau de Vire Society. Ballroom dancing leads way to stunning performances both on and offstage in a collage of fashion, theatre, music, circus performance, and dance. Each year, The Edwardian Ball presents a featured Edward Gorey tale in an original stage performance. This year's event takes a unique turn, with Edwardian founders Rosin Coven teaming up with longtime collaborators Dark Garden Corsetry in a presentation of Gorey's ridiculous tale, "The Stupid Joke." Expect anything but stupidity as these masters of their craft collaborate in an unforgettable tale of a poorly planned joke gone incredibly wrong...

What: The 16th Annual Edwardian Ball
When: Friday, January 22, 2016 and Saturday, January 23, 2016.
Hours: 8 pm to 2 am.
Vendor Bazaar: Noon to 5 pm, Saturday, January 23, 2016 with a special admission price of only $5.00 (Free admission with VIP ticket purchase).
Where: Regency Ballroom, 1300 Van Ness Street, San Francisco, CA 94109. http://www.theregencyballroom.com Directions: https://goo.gl/maps/4JcdZhAY58m
Ages: All Ages Welcome – 21 and over to consume alcohol
Attire: Creative Period Costumes Strongly Encouraged.
Tickets Prices:
General Admission: $60.00 per night
VIP Mezzanine: $95.00 per night
VIP Reserved Seating: $125.00 per night
VIP "Gilded Bat" Weekend Pass: $375.00 to $400.00 for 2 nights
Ticket Prices Increase as Event Draws Near.