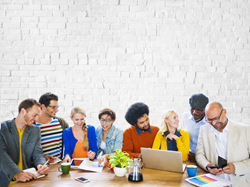 You may have a brilliant idea for a campaign, but unless you've got a team of experts to plan and execute it, it's unlikely to have much effect on sales
London, England (PRWEB UK) 10 November 2015
London School of Marketing, which offers a range of courses including the DMI Diploma in Digital Marketing, has today released a blog post delving into how dynamic digital teams operate and what makes a great campaign get noticed in an age when we are constantly bombarded with online messages.
The head of the school's marketing department, Gimhani Gunasinghe, said: "Successful companies have adapted quickly to the huge shift into digital that we have seen in recent years, assembling teams of experts to ensure that their campaigns are effective.
"Increasingly, companies are prepared to invest considerable time and money in their digital marketing departments in a bid to stay ahead of the competition."
The blog shows how marketing qualifications can provide all the skills and knowledge needed to plan and execute a successful campaign and takes a detailed look at who the members of an online marketing team are and what they do.
In the post, the importance of a number of roles is revealed, including specialists in search engine optimisation, creative marketing, strategy and planning, analysis, social media, and building relationships with clients.
Gimhani continued: "You may have a brilliant idea for a campaign, but unless you've got a team of experts to plan and execute it, it's unlikely to have much effect on sales.
"From maximising web traffic to making sure content reaches its target, forward-thinking companies make sure they've got all their bases covered in today's ultra-competitive business environment."
The full blog post, including a detailed look at how online marketing teams operate, can be viewed here. The qualifications and courses offered by the school, including the DMI Diploma in Digital Marketing, can be explored at http://www.londonschoolofmarketing.com.
London School of Marketing delivers accredited marketing and business qualifications, and offers courses from recognised professional bodies such as CIM, EduQual, BA (Hons) Marketing, MA Marketing and Innovation, and an MBA from Anglia Ruskin University. Based in Central London, they are a QAA approved institution. The school also has offices in Sri Lanka, a network of Local Access Points (LAPs), and online programmes of learning. Courses are run over a broad range of study modes.