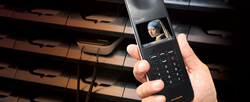 Kfar-Saba, ISRAEL (PRWEB) November 12, 2015
Opus+ is the most recent addition to Acoustiguide's groundbreaking family of Opus audio-multimedia guides: this slick model features a newly enhanced, visitor-friendly interface and delivers content of any length. With its modern yet rugged ergonomic design, customizable navigation buttons and superior stereo sound, Opus+ remains the ideal choice for museums, cultural institutions and entertainment venues. A special design enhancement makes it water- resistant and perfect for open-air sites.
The new Wireless Charging Cabinet debuts at a pivotal point in multimedia guide technologies. In addition to being wireless, it is the only one to support - with the very same 25-unit Cabinet - a host of different players, from the proprietary Opus+ technology to multiple commercial devices including different generations of iPod Touch and the latest HTC Desire 626 devices.
It is therefore the optimal choice for venues that want to support onsite, proprietary technologies and also provide a solution for a variety of off-the-shelf multimedia devices, both iOS and Android-based. This charger can be configured for additional devices depending on the client's needs and offers unprecedented flexibility never before seen in the marketplace.
With its interchangeable nests for the different devices, the Wireless Charging Cabinet model also removes the hassle of fragile connectors, allowing for maintenance-free and distribution-friendly operation.
In November 2015, Acoustiguide Opus+ devices and the Wireless Charging Cabinet will debut at the NPM South: the Southern Branch of the National Palace Museum of Taiwan, and at the Diaspora House Museum in Tel Aviv and more. Stay tuned.