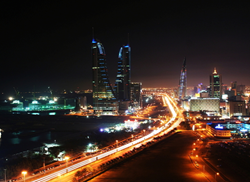 Bahrain has looked into evolving its visa processing system
New York, New York (PRWEB) November 11, 2015
Bahrain, along with many other countries in the Middle East, has recently seen an influx of tourism. To better accommodate the growing number of visitors coming into the country, Bahrain has looked into evolving its Bahrain visa processing system by becoming part of a unified visa that would include all six members of the Gulf Cooperation Council (GCC): Kuwait, Qatar, Oman, Saudi Arabia, and The United Arab Emirates.
Khaled bin Salem Al-Ghassani, the GCC's Assistant Secretary General for Cultural and Media Affairs claims, "All GCC countries stand to gain from the new tourism policy." (http://www.albawaba.com/business/will-ambitious-pan-gcc-schengen-style-visa-be-reality-next-year-753324) By banding together and requiring only one visa, the GCC hopes to spur tourism in all six countries, thereby making the area as a whole more economically prosperous. If agreed upon, the new visa could be introduced as early as next year.
In theory, this proposal makes travelling to the Middle East simpler, as it allows travelers to go from country to country without having to apply for multiple visas. However, changing the visa would also require a change in the visa processing system to accommodate a new set of guidelines. A new system can take months or even years to perfect, and whenever the government is involved, the process can be much slower and more complicated than necessary. A new visa processing system could be an enabler, or it could be an obstacle.
Bahrain has already taken measures to better accommodate the rise of tourists coming into the country, as well as to attract new visitors with the ease of their visa processing system. Their solution has been to switch to an online processing system, which unfortunately is not user-friendly, and can take ages to get travel documents processed.
A Revolution in Visa Processing
iVisa.com, a non-government-affiliated, online visa processing service, seeks to mitigate that problem by giving travelers the quickest and easiest visa experience. Through its latest service, Bahrain Visa Online, iVisa aims to make the Bahrain visa a simple process. Travelers will receive their visas in their e-mail boxes within 98 hours or 46 hours if they opt for rush service.
"Because visa processing is our speciality, we can offer you extra perks that a government website wouldn't," explains David Perez, one of the site's founders. "For example, we have a 24/7 chat feature, so we can give you additional support and answer all of your questions throughout the process if you need it. We're also more internationally friendly. We accept multiple currencies, and our website can be translated into over twenty languages, so anyone can use it."
Soon, getting a visa to Bahrain might be more difficult, so there's no better time to go than now. iVisa makes the process quick and user friendly, solving many of the problems that frequent travelers experience.