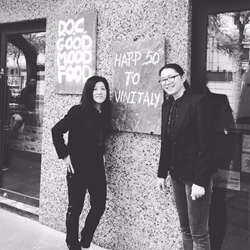 Wines from the Chinese Silk Road regions will travel along the Silk Road and will be tasted in Verona, hometown of Romeo and Juliet.
Shanghai, China (PRWEB) November 10, 2015
Vinitaly and Wine in China Magazine have held the press conference "Silk Road: a remake in the works". First Debut of Chinese Wines at the 50th Anniversary of Vinitaly, to announce their cooperation in showcasing Chinese wines during Vinitaly 2016.
Chief Editor of Wine in China, Ms. Ma Zhen opened the press conference: "2000 years ago, the Silk Road connected China and Ancient Rome, two great countries. The Silk Road witnessed the trading and cultural communication between them. Over 700 years ago, Marco Polo facilitated the first contacts between China and Italy. Later, Matteo Ricci and Giuseppe Castiglione brought our two populations closer together. 2000 years later, the grapes that were introduced in China along the Silk Road are now being cultivated in the country. Wines from the Chinese Silk Road regions will travel along the Silk Road and will be tasted in Verona, hometown of Romeo and Juliet."
Managing Director of Vinitaly International, Ms. Stevie Kim, said: "April 10~13, 2016,will be the new date for Vinitaly next year in Verona, Italy. It will be its 50th Anniversary and one of the significant and relevant projects will be the launch of our cooperation with the Chinese professional wine magazine, Wine in China, with the aim of showcasing Chinese wines for the very first time at Vinitaly. Wine in China has had a historical and authoritative role in introducing wine culture in China and we are honoured that they have chosen to lead a group of Chinese wines to Vinitaly in the upcoming year."
Chinese wines will also be showcased at the Vininternational Pavilion. This is a clear sign that China is gradually being treated by the world as a wine producing country, a sing of our times.
The Chinese wines will be presented during the Wine Award organized each year by Vinitaly. For the 2016 edition the Award will be undergoing a series of exciting changes that will be unveiled on the occasion of wine2wine (2-3 December 2015).
Moreover, Vinitaly attendees will also have the chance to taste and better understand Chinese wines during different workshops and seminars.
Veronafiere
Veronafiere is the leading organizer of trade shows in Italy including Vinitaly (http://www.vinitaly.com), the largest wine and spirits fair in the world. During its 49th edition Vinitaly counted some 4.000 exhibitors on a 100.000 square meter area and 150.000 visitors including more than 2.600 journalists from 46 different countries. The next edition of the fair will take place on 10 - 13 April 2016.
The premier event to Vinitaly, OperaWine (http://www.vinitalyinternational.com) "Finest Italian Wines: 100 Great Producers," will unite international wine professionals on April 9th in the heart of Verona, offering them the unique opportunity to discover and taste the wines of the 100 Best Italian Producers, as selected by Wine Spectator. Since 1998 Vinitaly International travels to several countries such as Russia, Greater China, USA thanks to its strategic arm abroad, Vinitaly International. In February 2014 Vinitaly International launched an educational project, the Vinitaly International Academy (VIA) with the aim of divulging and broadcasting the excellence and diversity of Italian wine around the globe. VIA has now also created its very first Certification Course with the aim of creating new Ambassadors of Italian Wine in the World.
Wine in China Magazine
Wine in China is a magazine about "Wine and Life Culture". It has won the "World Best Magazine" from Gourmand Cookbook Award, Paris in 2010.
Wine in China magazine is led by China Science Society and China Agricultural University. Wine in China also focuses on the Chinese wine industry and promotes the recognition of Chinese Wines overseas.
Wine in China invited seven MWs to be the judges for the "Chinese Wine Competition" and contributed to the participation of Chinese wines in International wine competitions. Wine in China worked with MW to organize Chinese wine seminars and tastings in Académie International du Vin, Society of Wine Educators Annual Conference 2015 and Asia Wine Buyers Conference in Switzerland, US and Korea.