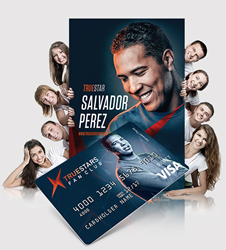 A prepaid card with the Passion of a Fan. The TSFC Card is loaded with benefits and rewards specially designed for baseball fans.
(PRWEB) November 18, 2015
Announcing the launch of the True Stars Fan Club Visa prepaid card from All Stars Global Technologies, Inc., the first-ever and only reloadable card branded with popular Major League baseball players, granting access to the True Stars Fan Club (TSFC) and its rewards program with ongoing exclusive benefits and prizes for cardholders.
"Prepaid cards are a popular method for online purchase. We have created a unique card to incorporate the value and desirability that baseball provides," says José Ramón Campos, CEO-Founder of ASGT, "and it can be reloaded in many ways: Online, with our mobile app[2] and at the extensive network of retailers affiliated to VisaReadyLink and Western Union."
Cardholders are granted access to the True Stars Fan Club and its rewards program[1], the first of its kind in the prepaid industry. The TSFC rewards program[1] offers much more than just cash-back incentives. It provides opportunities to win meaningful prizes for baseball fans like player-autographed items, all-inclusive fun trips, invitations to exclusive events and player-related experiences.
"We gave a product of a fast growing industry, the special appeal it needed for baseball fans," says J. F. Luzon, CFO-founder for ASGT and a passionate baseball enthusiast. "We wanted to provide a way to help in strengthening the emotional connection between a Player and his fans, and I believe we did."
Each TSFC card is branded with one of a select group of popular Major League baseball players that cardholders can choose from. They will be able to select one of the following initial 12 participant players for their card: Adrian Gonzalez, Brandon Phillips, Carlos Beltran, Craig Kimbrel, David "Big Papi" Ortiz, "King Felix" Hernandez, Jimmy Rollins, Manny Machado, Nick Swisher, Pablo Sandoval, Salvador Perez or Yasiel Puig.
"The TSFC Card rewards program[1] offers a set of rewards particular to each specific player," says Nomar Guevara, chief marketing officer for ASGT and creator of the TSFC concept. "So for instance, if you have David Ortiz's card, you'll have monthly opportunities to enter fun contests for a chance to win one of his autographed baseballs, jerseys or original renderings, but it doesn't end there; you'll also have chances for great, meaningful and memorable prizes[1] like for instance, unique 'Meet & Greets,' 'Cooking with Big Papi' or attending his 'Celebrity Golf Tournament in Dominican Republic'."
Throughout the year, there will also be non-player-specific sweepstakes[1], open to all, with chances to win all-inclusive trips to events like golf tournaments and private parties hosted by the Major League Baseball Players Association (MLBPA), baseball-related experiences to the Caribbean winter baseball, March baseball in Florida and Arizona, and a number of events around the hottest moments in baseball during regular season, post-season and even off-season.
While the contests and sweepstakes[1] are all very exciting, "just being part of the True Stars Fan Club will be very rewarding," adds Guevara. "TSFC also gives you the chance to meet other fans with similar interests, and then organize to volunteer for social programs happening near you, to attend events or baseball games, or just to have fun together... and we'll reward you for doing that."
"We feel this product helps celebrate the connection between a player and the fan," says Richard White, General Manager, Business Affairs of the MLBPA. "We are excited for people to use this brand-new card that is a combination of a prepaid card and a very aggressive rewards system. Prepaid cards which include powerful rewards are great products to meet the needs of today's baseball fans."
Please visit http://truestarsfanclub.com to learn more about the True Stars Fan Club Visa prepaid card and the world of fun and rewarding opportunities it has to offer.
The True Stars Fan Club and its product the True Stars Fan Club Visa Prepaid Card are officially licensed products of MLBPA. The TSFC Card is accepted everywhere Visa debit cards are accepted.
The True Stars Fan Club Visa Prepaid Card is issued by MetaBank, Member FDIC pursuant to a license from Visa U.S.A. Inc. Optional TSFC offers are not MetaBank products or services nor does MetaBank endorse these offers.
The Truestars Fan Club Visa Prepaid Card is issued by MetaBank®, Member of FDIC pursuant to a license from Visa USA Inc.
1. This is not a Metabank product or service, nor does Metabank endorse any of these offers.
2. Standard text message and data rates, fees, and charges may apply.