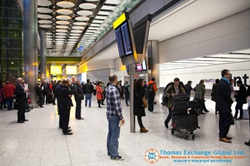 Thomas Exchange Global offers the instant availability of foreign bank notes at all branch locations throughout London—offering travellers in a rush quick and easy access to foreign currencies
London, UK (PRWEB UK) 16 November 2015
Heathrow Airport in London, England was recently ranked as the busiest airport and biggest megahub in Europe by Skift in a recent article published Oct. 8, 2015. In response to the news, foreign currency specialist Thomas Exchange Global has consequently decided to extend instant availability of travel money across all branches to facilitate passengers travelling to and from the thriving European hotspot.
On 8th October Skift identified Heathrow as the most connected hub in Europe with a Connectivity Index of 692, indicating the "total number of all possible connections between both inbound and outbound flights within an 8 hour window during a single day at the airport." According to the index, Heathrow is well placed as a connectivity hub—with 34% more connections than its closest competitor.
In another report published by The Brussels Times on Oct. 7th, based on statistics by the European Statistical Office, London Heathrow recorded the largest rise in number of passengers last year--- handing 73 million passengers at an increase of 1.4% from the year before.
In conjunction with passengers' need for last-minute travel money, Thomas Exchange Global offers the instant availability of foreign bank notes at all branch locations throughout London—offering travellers in a rush quick and easy access to foreign currencies. The London-based currency specialist offers extensive coverage, with 11 different branch locations based in and around the city's hotspots.
"We are extremely proud of the achievements of Heathrow, thus making London the busiest air hub in Europe. Unfortunately, London's travel money industry hasn't evolved as quickly as consumer demand, with many suppliers still requiring a wait time of 24-48 hours to arrange travel money orders," claimed Trevor Samuel, Senior Manager at Thomas Exchange Global.
Unlike most currency providers based in London, most travel money needs can be met instantly by Thomas Exchange Global, as they maintain sufficient stocks of all major and exotic currencies.
"We deal with over 120 different types of bank notes and keep an ample stock of most currencies at each of our branches. Our branches are furthermore strategically located at transport links to all of London's airports, and hence, we don't expect passengers to wait a day or two to buy their travel money. We anticipate their needs and are geared to provide instant travel money to any passenger travelling to any part of the world on any given day of the week," Trevor concluded.
For further details, please visit http://www.thomasexchangeglobal.co.uk, or call 020.7240.1214.
About Thomas Exchange Global:
As dedicated foreign exchange specialists, Thomas Exchange Global has the professional expertise, in depth market knowledge, technological infrastructure, and commitment to provide an unprecedented level of service that sets the standard in the foreign exchange industry. They are specialists in all areas of foreign exchange. They provide commission free currency as well as travellers cheques.
Thomas Exchange Global branches are located at Strand, Embankment, Victoria Street, Victoria Place (Victoria Rail Station), Liverpool Street, London Wall, Hammersmith, High Street Kensington, Cannon Street, Canary Wharf, and Richmond.
For further details visit http://www.thomasexchangeglobal.co.uk, or call 020.7240.1214