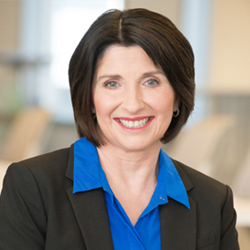 I fell in love with the people and the purpose of the company and knew I had to take on the challenge of continuing to grow Retrofit and transform lives and workplaces.
Chicago, Ill. (PRWEB) November 10, 2015
Retrofit CEO Mary Pigatti's first view of the company was not at the helm where she stands today, but as an undercover future boss looking to test out the company's weight-loss program.
"I fell in love with the people and the purpose of the company and knew I had to take on the challenge of continuing to grow Retrofit and transform lives and workplaces," Pigatti said. "I also was drawn to the personalized approach and proven outcomes with lasting results, which set Retrofit apart from the rest of the weight-management industry."
Retrofit, a leading provider of weight-management programs, was founded in 2011 by serial entrepreneur Jeff Hyman. Pigatti took over for Hyman and still relies on him as a trusted partner as chairman of the board. The pair meets weekly to talk about the business. Hyman founded the company after spending time at a high-end weight-loss facility. He wanted to take what he learned there and bring it to the masses. Hyman and Retrofit's investors hired Pigatti to do just that.
One year later, Retrofit has grown significantly under Pigatti's watch. The organization has successfully pivoted from a direct-to-consumer to a business-to-business organization with a roster of several notable customers. Pigatti also has made several high-profile hires recruiting top-notch talent from Fortune 500 companies who were looking for more meaningful work.
And while Pigatti's focus these days is on securing series C funding to accelerate the company's growth, her priority remains the happiness of her employees and their clients.
"Employee happiness has always been my number one priority," Pigatti said. "If our employees are happy and living a life they love then our customers, clients and investors will be happy."
Pigatti, who has been married for 30 years and who is a mother of three grown children, takes this to heart and brings her own maternal instincts to the office. She bakes pumpkin bread for her employees in the little spare time she has and encourages them to work flexible hours and to work from home to ensure their personal and family needs are met.
Employees see Pigatti really more as a chief happiness officer. She has instituted Good Egg Days, where employees are given one day off a quarter to give back to their community. Pigatti also incorporates yoga and other exercise into staff meetings and provides healthy snacks to ensure the company is living its values. The office includes treadmill and standing desks and exercise balls to get a workout while sitting. Each employee is given the opportunity to complete the Retrofit program.
Since joining Retrofit, Pigatti has dropped three dress sizes thanks to the program and the 15,000 steps she takes each day. She often can be found conducting conference calls from her treadmill desk.
Innovation is another area of importance for Pigatti. She implemented weekly "Think with Mary," meetings where employees talk about innovative ideas they have seen in the marketplace and brainstorm how to continually improve the Retrofit program.
"I am always challenging our employees to be thinking about the next big thing that might put us out of business," Pigatti said. "This helps us tailor our products to ensure they are culturally relevant while still delivering on a personalized and sustainable weight loss program that improves health, happiness and performance."
Retrofit uses a high-tech, high-touch approach to encourage healthy behaviors and achieve lasting weight loss results. Clients are given the personalized attention of a live coach, a smart dashboard for tracking and notifications, expert-led interactive classes, social support from an online community and a variety of self-monitoring technologies to achieve sustainable weight loss.
About Retrofit
Retrofit offers weight management solutions that help employers tackle obesity and deliver proven outcomes and lasting results. Ninety percent of participants lose weight and 68 percent keep it off 18 months later. Retrofit clients also are two times more satisfied than those on other weight-loss programs, according to a recent client satisfaction survey. Retrofit attributes its success to five key factors: 1) a scientifically based program design; 2) highly credentialed experts who drive a personalized experience and true engagement; 3) a multi-disciplinary, high-tech/high-touch approach; 4) the adaptability of the program to integrate or run discreetly within organizations' broader wellness ecosystems, and 5) "happiness delivered" with proven outcomes that transform lives and workplaces. For more information, visit http://www.RetrofitMe.com. Also follow the company on Facebook and Twitter at @retrofitme.