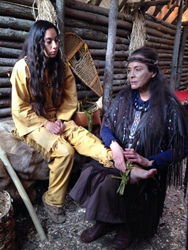 Your heart goes out to Kateri because of the things she suffered and persevered through. She had a deep impact on me,
Irondale, AL (PRWEB) November 10, 2015
The daughter of a Mohawk warrior and Algonquin mother, Kateri Tekakwitha suffered from disease and war as a child.
A smallpox epidemic not only claimed the lives of Kateri's mother, father, and brother, but left her with a scarred face and poor eyesight. The four-year-old orphan was then adopted by a fiercely anti-Christian Mohawk chief.
How is it possible that such a girl managed to discover the Catholic faith, much less become a canonized saint?
Find out when EWTN airs its first original motion picture, "Kateri," which was filmed on location in the U.S. and Canada. (Airs 9:30 p.m. ET, Wednesday, Nov. 18 and 8 p.m. ET, Saturday, Nov. 21.) Before the Wednesday premiere, don't miss Fr. Mitch Pacwa's live interviews with Writer/Director Jim Kelty and Actress Sabrina Villalobos, who plays Kateri, on a special "EWTN Live" at 8 p.m. ET, Nov. 18.
"Your heart goes out to Kateri because of the things she suffered and persevered through," Kelty said. "You wonder, 'How did she live through that and what was that like?' She had a deep impact on me."
Villalobos said she was unfamiliar with St. Kateri, who lived only 24 years, but became "enamored" of her after reading the script and doing research on her canonization. "I've always loved strong female figures like St. Agatha and St. Joan of Arc, so I was extremely excited to start work with Kateri."
Every effort was made to insure that the costumes, the sets, and even the language used in the 90-minute film was as realistic as possible. Throughout the movie, the principal actors even speak some of their lines in the Mohawk language so three language experts were used on set to insure this was spoken authentically.
"All the filming was in Cambria [California], except three days in the snow in Midland, Ontario, Canada on the shores of Georgian Bay," Kelty said. "In Midland, they have Our Lady of Martyrs Shrine, which celebrates the eight martyrs of North America and Kateri. We shot on the Shrine grounds. We were praying for snow and guess what? The day we arrived to begin setting up – a foot and a half of snow fell.
"Across the highway is a very significant living history village. In the scene where Kateri tearfully listens as [one of the missionary priests] is addressing them – 30 feet behind her is [famed Jesuit missionary and North American martyr] St. Jean de Brébeuf's actual grave."
The film utilized more than 100 actors. Kelty was initially having trouble finding enough extras to play Mohawk Indians until he mentioned his dilemma to a friend at Our Lady of Guadalupe Parish in Mendota, Calif., a small agricultural town that is part of the Roman Catholic Diocese of Fresno. To Kelty's amazement, at least 50 people from the parish made the 100 mile trip to participate in the film.
"[These parishioners] gave us their day," Kelty said. "At the end of our 16-hour-day, I walked beside the bus [taking them back to their parish], waving to them. They were so happy they'd been able to participate in this story of one of their beloved saints. This was far and away the most inspirational thing I can talk about."
Thanks to a lot of prayer, even the weather cooperated. "The snow that fell the day we arrived in Canada and the fog that suddenly appeared on Morro Bay, [California, where we were filming another scene], were the two knock-your-socks off things that happened," Kelty said. "There is no way that Hollywood, with all its money, could have done it better. This production was blessed. There is no other way to say it."
EWTN Global Catholic Network, in its 34th year, is the largest religious media network in the world. EWTN's 11 networks broadcast the Gospel message in multiple languages 24 hours a day, seven days a week to over 258 million television households in more than 140 countries and territories. Properties include direct broadcast satellite television and radio services; AM & FM radio networks transmitted through SIRIUS/XM, iHeart Radio, and almost 500 Catholic domestic and international radio affiliates; a worldwide shortwave radio station; the largest Catholic website in the U.S.; electronic and print news services, including "The National Catholic Register" newspaper, and two global wire services; as well as a publishing arm.