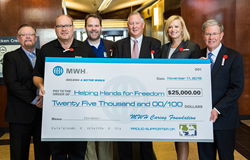 The life blood of all non-profit organizations is having community partners like MWH Global.
Denver, CO (PRWEB) November 11, 2015
MWH Global, an engineering, consulting and construction firm focused on water and natural resources, today announced a new partnership with Helping Hands for Freedom (HHFF) by providing a $25,000 grant to assist in the growth of their organization and services that support the military community.
Helping Hands for Freedom, a 501(C)(3) non-profit organization, works to address the gaps in the military and government's support for the immediate needs facing U.S. military families. The organization's mission is to create and run programs that provide support for the sacrifices that military children and family members make when a loved one is lost, wounded or deployed. Programs offered by HHFF include youth sports and education, emergency assistance and family development programs for the spouses and children of military veterans.
"The life blood of all non-profit organizations is having community partners like MWH Global," says Rod Smith, Co-founder of Helping Hands for Freedom. "We are blessed to have such a kind and caring organization that not only believes in our mission, but is willing to become engaged and work with us so we can reach so many more military families."
The grant from MWH Global will be used in support of Helping Hands for Freedom's Life Enrichment Programs, Life Emergency Need Programs, Sports & Education Camps, and their Dream Chaser Program for fallen soldiers families. The goal of these programs is to ensure that U.S. military families are provided for, know they are appreciated and to be a positive influence to the children's development.
"Veterans have made extraordinary sacrifices," said Alan Krause, chairman and chief executive officer of MWH Global. "We appreciate their contributions and are grateful to all veterans, especially those we have working with us at MWH."
MWH Global has also committed to the Joining Forces Initiative to support hiring returning service members, veterans and their families. MWH has pledged to hire 250 service members over the next five years.
To learn more about MWH Global veteran's initiatives, please visit mwhglobal.com/military.
About MWH Global
MWH Global is dedicated to Building a Better World. As specialists in water and natural resources, MWH employees use innovative ideas and technology to help solve complex infrastructure and environmental challenges. This work is built on a nearly 200-year history during which MWH has delivered services from initial planning and design through construction, start-up and operations. Today, MWH employs approximately 7,000 experts including engineers, consultants and construction professionals in 35 countries on six continents. Each of these experts is committed to serving global communities through sustainable development and project delivery. MWH is a private, employee-owned company headquartered in Broomfield, Colorado. For more information, visit mwhglobal.com or connect via Twitter, Facebook and LinkedIn.