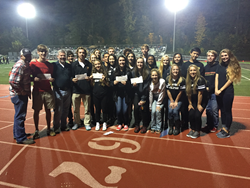 I really wanted these students to know that they could accomplish anything they put their minds to... - Gary Martin Hays
Norcross, Georgia (PRWEB) November 12, 2015
Each student was presented with the question "What would you do if you were in charge?" And the rest is history.
Soon after being published, "If I Were In Charge" went to No. 1 on Amazon in 2 categories:

Social Issues
Teen & Young Adult – Social Issues
These student authors highlighted issues such as Autism, Adoption, Homelessness, Children's Rights, Health Care and more, and then offered their view on how to solve the problem and ensure a brighter future for, not only our country, but our world.
When Atlanta Attorney Gary Martin Hays, was asked why he wanted to make this opportunity available to students at Greater Atlanta Christian School, through the publishing company he co-founded, he replied, "I really wanted these students to know that they could accomplish anything they put their minds to if they were willing to work for it. I think it was important for us to lead by example and provide this chance to become a published author for free with all proceeds going to charity."
When asked about the students' writing, Gary's publishing partner Adam Weart, responded by saying, "Their passion is clear and their plans are big and bold. We need more people dreaming big. I am extremely proud of their hard work and dedication in writing this book, but I am even more proud of their willingness to share their vision so openly."
Senior High Student Dean, Caleb Panter said, "These students have offered ideas that have the potential to change the world. In a world where critics seem to rule the day, taking a chance and offering a solution is an exceedingly brave step. These students have cut through fear and pursued courage in their writings to help us see solutions that could make our world a better place."
Working diligently in class and at home, the hard work of these now best-selling authors is visible as you read through each well researched chapter.
Five of these student authors were selected to win a $1,000 scholarship, which was awarded to each student by Gary Martin Hays.
The scholarship winners were:
Zachary Henderson: "Friendship for Special Needs Kids"
Stephanie Breon: "Rape on College Campus"
Lauren Brown: "Education Reform"
Madison Crane: "ADHD"
Matthew Kenworthy: "Exercise = Power"
"If I Were In Charge" was published by Atlanta Attorney Gary Martin Hays and co-partner Adam Weart, owners of We Published that L.L.C.
About We Published That:
We Published That, L.L.C. is a Publishing Firm dedicated to helping individuals and businesses become published authors and spread their unique perspective around the world by establishing themselves as The Authority On™ their area of expertise.
About Gary Martin Hays:
Gary Martin Hays' legal accomplishments include being a member of the prestigious Multi-Million Dollar Advocates Forum, a society limited to those attorneys who have received a settlement or verdict of at least $2 million dollars. He has been recognized in Atlanta Magazine as one of Georgia's top workers' compensation lawyers as voted on by other lawyers in Georgia.
Gary hosts "The Gary Martin Hays Show" on the CW Network, Atlanta's only daily legal television show. Gary is also the creator and host of "The Intersection: Where Country Meets The Cross," on WKHX (KICKS 101.5 FM) in Atlanta.
Gary Martin Hays is not only a successful lawyer, but is a nationally recognized safety advocate who works tirelessly to educate our families and children on issues ranging from bullying to internet safety to abduction prevention.
The book can be purchased for $4.99 on Amazon.com in eBook format and in paperback for $24.99 .
All proceeds earned from book sales will be donated to the Salvation Army.