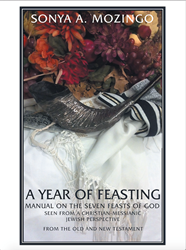 The feasts are appointed days made by God and are a formula that when followed, bring a full year of blessing, prosperity, happiness, and will prepare one for the coming of Jesus Christ
CHARLOTTE, N.C (PRWEB) November 10, 2015
When despair strikes and difficult times lay ahead, many look for a light to guide them through the darkness. In Sonya Mozingo's case, after having struggled with family problems for 23 years, she found hope in the words of a book written by Larry Huch, an evangelical pastor, which lifted her spirits and introduced her to biblical feasting.
Inspired by her own religious journey and participating in God's feasts every year, Mozingo hopes to share her newfound blessings by helping others celebrate the Biblical feast of God in her new, easy to use manual, "A Year of Feasting." In her guide, she provides the dates of upcoming feasts, materials one might need, and a script to provide help with understanding the different feasts.
"I had never been taught on the feast of God, although it is right there in full view in the Bible," Mozingo said. "The feasts are appointed days made by God and when followed, bring a full year of blessing, prosperity, happiness, and will prepare one for the coming of Jesus Christ."
"A Year of Feasting" serves as a common tool in helping evangelical groups and churches become aware and commemorate the feast of God. It will also lead people into a year of freedom and preparation for the coming of Jesus Christ.
"God's year always begins with forgiveness, a clean slate, and a joyous new beginning," Mozingo said. "He has designed the perfect plan for the entire year: it involves days of remembrance and rejoicing, as well as days of bringing blessing, favor and prosperity to his people."
For more information, visit http://www.Facebook.com/TheSoundofJoyMinistries
"A Year of Feasting"
By Sonya Mozingo
ISBN: 524376
Available in softcover, hardcover, e-book
Available on Amazon, Barnes & Noble and Archway
About the author
Sonya Mozingo, author of "A Year of Feasting", currently resides in Stedman, N.C., where she works as a registered dental hygienist. Mozingo attended Fayetteville Technical Community College where she earned her Associate of Applied Science degree. In her spare time, she is an avid Bible reader and active in church ministry.
# # #
**FOR IMMEDIATE RELEASE**
For review copies or interview requests, contact:
Katie Wenclewicz
317.602.7137
kwenclewicz(at)bohlsengroup(dot)com