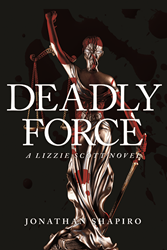 Chicago, IL (PRWEB) November 12, 2015
Jonathan Shapiro is a former federal prosecutor who indicted and convicted cops for using excessive force against innocent suspects. "Deadly Force: A Lizzie Scott Novel", to be published in February 2016 by Ankerwycke, is the ultimate insider's look into the nuts and bolts of a federal civil rights prosecution, the story of a shooting, as timely as it is powerful. Shapiro has spent the past 15 years writing and producing some of television's most iconic shows, including "The Practice", and "Boston Legal". He has received an Emmy, a Peabody, and multiple Humanitas Awards. Shapiro, along with Emmy-award winning David E. Kelley, is one of the creators, writers and executive producers of "Trial", an Amazon legal thriller starring Billy Bob Thornton and William Hurt, set to air in 2016. He is formerly of counsel at Kirkland & Ellis, Los Angeles, where he specialized in entertainment law litigation. "Deadly Force" is his first novel.
In this exciting legal thriller, you will meet Lizzie Scott, federal prosecutor, whose obsession with protecting the weak is matched only by her hatred of bullies, especially when they wear a badge. Set in the United States Attorney's Office for the Central District of California, Santa Ana Branch Office, "Deadly Force" is the first in a trilogy of books about Lizzie Scott and her battles to tame the Inland Empire, the West's wild frontier.
Editor's note: Advance reader copies and author interviews are available by emailing Jill Nuppenau at jill.nuppenau(at)americanbar(dot)org If you publish a review of this book, please send tear sheets or a copy for our files to Jill Nuppenau, c/o ABA Publishing, 321 N. Clark St., Chicago, IL 60654.
This new novel is available for pre-order on http://www.amazon.com.
Ankerwycke, launched in December 2014, is the consumer-oriented imprint of the American Bar Association, one of the largest voluntary professional membership organizations in the world with more than 400,000 members. In 1215, Magna Carta was sealed underneath the ancient Ankerwycke Yew tree, starting the process which led to rule by constitutional law — in effect, giving rights and the law to the people. Today, the ABA's Ankerwycke line of books continues to bring the law to the people. With legal fiction, true crime books, popular legal histories, public policy handbooks, and prescriptive guides to current legal and business issues, Ankerwycke is a contemporary and innovative line of books for everyone from a trusted and vested authority. Follow Ankerwycke on Twitter @AnkerwyckeBooks.