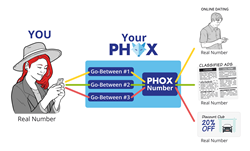 PHOX is ideal anytime a person does not want to share their private mobile number for texting.
Redmond, WA (PRWEB) November 11, 2015
Ivy Corp (http://www.ivycorp.net) today announced PHOX, a mobile texting service that protects an individual's private number, providing an easy, safe and secure way to connect and stay private.
PHOX is ideal anytime a person does not want to share their private mobile number for texting, such as:
● Online dating
● Car service reservations
● Online forms
● Online classified purchases or sales, and
● Retail discount clubs
PHOX keeps a user's mobile number protected by hiding it behind a public PHOX number that routes text messages to the customer's personal, private cell number. With PHOX, customers seamlessly send and receive texts as usual from their cell phone without compromising their privacy or having to install an application that may retrieve or sell data accessed from their mobile phone. Once the PHOX user feels comfortable sharing their private number, they can easily do so at any time.
"Our core expertise in secure and efficient multi-channel mobile messaging was instrumental in developing PHOX," said Ivy Corp President and CEO Tomas Isaksson. "We believe PHOX and the technology behind PHOX will disrupt how both individuals and ultimately businesses use mobile technology to connect, protect and simplify communication."
No Application Required = No "Data Slurping"
In today's world, security and privacy are very important. Because PHOX is a service and not an application, there is no 'data slurping' of contact lists or other private information stored on users' cell phones.
Isaksson noted that mobile phone applications have the ability to access personal information from users' cell phones often without the user having a clear understanding of what information is being accessed or if it is being passed on to other parties. As a service, PHOX provides a secure alternative, giving users peace of mind that their privacy and personal information are protected.
How It Works
● Get a PHOX number - Sign up at http://www.getPHOX.com by entering your mobile number. PHOX will text your cell phone a PIN to confirm and create your PHOX number.
● Receive a text - Simply give your PHOX number to any new contacts. When they text you, you will receive it on your phone just like a regular text message. When you see PHOX at the beginning of the message, you will know it was sent to your PHOX number. Your replies will be delivered from your PHOX number and appear like any other text to the recipient.
● Send a text - To send a text to a new contact, get a Go-Between number from PHOX.
To view a demo of how PHOX works, visit http://www.getPHOX.com/demo.
Pricing and Availability
PHOX customers can sign up for a free seven-day trial that includes 60 messages. After the trial, users can subscribe to the service for $4.95 per month with 200 text messages (sent or received) or for $9.95 per month with unlimited texting. To subscribe, go to http://www.getPHOX.com.
###
About Ivy Corp
Based in Redmond, Wash., Ivy Corp enables the next generation of messaging for enterprises, channel partners, small businesses and consumers with carrier grade technology that connects, protects and simplifies communication. Founded in 2009, Ivy Corp brings world-class technology expertise in software and mobile development. Ivy Corp is a privately-held, white-label messaging company funded by prominent wireless industry angels, American Messaging, Seraph Capital and Women's Venture Capital Fund. Visit us at facebook.com/getphox; follow us on Twitter: @getphox; and view us at youtube.com/getphox.
Media Contacts:
Laura Luthi
laura(at)kauferdmc(dot)com
503.341.7785
Suzye Kleiner
suzye(at)kauferdmc(dot)com
602.686.3667