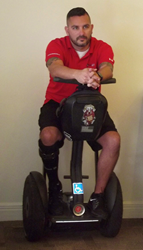 Wood & Huston Bank is proud to continue its support of our community and the service men and women that have proudly served our Nation. - Barry Randolph, President, Wood & Huston Bank
Marshall, MO (PRWEB) November 11, 2015
Wood & Huston Bank is committed to our community and the service men and women of our Nation.  On Friday, November 6, Wood & Huston held a taco salad fund raiser for Segs4Vets raising over $4,700.  Cargill, Walmart and Frito-Lay provided donations of their products in support of the event.  Wood & Huston employees also donated on select Fridays as a fun way to dress down to business casual.  In 2015, Wood & Huston will be donating $7,000 to Segs4Vets from its fundraising efforts.
Segs4Vets is an organization that believes that when those serving our Nation are sent into harm's way and suffer serious injury and/or permanent disability that they must have every resource and tool at their disposal to allow service men and women to continue to live the highest quality of life possible. Segway mobile transporters are one of the major tools provided to help severely injured military men and women regain their everyday mobility.
"We couldn't be more pleased with the Seg4Vets lunch results," commented Barry Randolph, President, Wood & Huston Bank. "We're grateful to our corporate contributors and community members, many of whom donated much more than the suggested lunch price to support this worthy cause.  Since 2009, Wood & Huston Bank has raised and donated over $50,000 to Segs4Vets and other veteran's organizations. Wood & Huston Bank is proud to continue its support of our community and the service men and women that have proudly served our Nation." 
About Wood & Huston Bank
Established in 1874, Wood & Huston is an independent, full-service community bank that in 2014 celebrated 140 years of delivering a wide range of quality financial products and solutions to the communities that it serves in Missouri—with branches and/or service locations in Cape Girardeau, Jackson, Marshall, Slater, Springfield, West Plains, and Higginsville, MO. Wood & Huston Bank delivers the convenience of online banking, mobile banking, mobile deposit and high-interest checking, along with competitive-rate loans for its customers. It's Wood & Huston's history and mission that distinguishes it from so many banking institutions. Personal service has been a legacy passed on from generation to generation for Wood & Huston Bank. The Bank operates with a philosophy that its reputation must be recreated every single day to meet each new challenge. To learn more about Wood & Huston, visit its website at http://www.woodhuston.com, drop by one of the convenient locations, or call (660) 886-6825. Wood & Huston Bank is a member of the FDIC and an Equal Housing Lender.
About Segs4Vets
Segs4Vets is a nonprofit organization gifting Segways to combat injured veterans of the Iraq and Afghanistan wars, helping veterans choose the path of independence to once again become productive members of society and their families as they continue to serve our nation. Designated one of the Best Independent charities in America, Segs4Vets has been awarded the Independent Charities Seal of Excellence. For more information, visit segs4vets.com or contact Lori Hampel, Segs4Vets program administrator, at 314-965-4938.