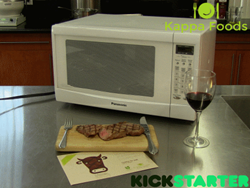 "You're up there with the finest steakhouses."
Toronto, Ontario (PRWEB) November 10, 2015
Startup Kappa Foods launched a crowdfunding campaign offering pre-orders for an instant steak product that lasts 3 weeks in the fridge to help busy people eat well without any hassle.
As a busy university student, founder Bill Zhou often found himself not having the time or skill to cook great food. But he wanted to eat well and eat healthy, so he scoured stores for the healthy high end alternative to instant noodles – only to find that it did not exist. In 2014, Bill teamed up with Nicholo Plaza, research chef, and the two set out to develop a solution for good food without the hassle.
"We thought there had to be a better way. Something that lets you eat delicious real food whenever you want. So we spent the last year developing a product and cooking technique that would do just that," said Nicholo.
After a year researching and developing their cooking unique, Kappa Foods tested their steak product at two events attended by over 1,000 guests: TechToronto and Autostrada Forum. They received rave reviews, summarized as "You're up there with the finest steakhouses," and "I could not believe this came out of a microwave", by Autostrada publisher Sean Patrick and TechToronto organizer Jason Goldlist respectively.
And now the company is offering pre-orders on the popular crowdfunding website Kickstarter, with home delivery offered to supporters anywhere in the contiguous United States and major metropolitan areas in Canada.
Kappa Foods aims to allow time-strapped and health conscious consumers to easily eat high quality gourmet food whenever they want, with minimal preparation. The company boasts that its steak has no artificial preservatives or flavors, is never frozen at any point, and is made from only four natural ingredients: beef, water, salt, and vinegar.
Persons or organizations interested in learning more about Kappa Foods can visit http://www.kappafoods.com.