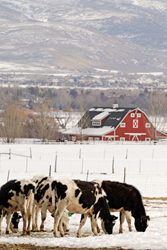 "We've actually had solutions in place for the dairy industry for quite some time now," Brent Reddekopp, President of Powerblanket said. "But recently, we've made a big push toward increasing awareness about what we offer the dairy farmer."
Salt Lake City, Utah (PRWEB) November 12, 2015
Powerblanket heating solutions have long served the freeze-protection and heating needs of multiple industries. But amid all the different sectors in which Powerblanket heating solutions are used, the dairy industry is one that isn't talked about as much, and Powerblanket aims to change that.
"We've actually had solutions in place for the dairy industry for quite some time now," Brent Reddekopp, President of Powerblanket said. "But recently, we've made a big push toward increasing awareness about what we offer the dairy farmer."
The standard line of Powerblanket products helps to ensure vital asset protection for varying applications in the dairy industry. From barrel and drum heaters to propane tank heaters and water tank heaters, Powerblanket provides a good foundation of easy-to-use and ready-to-ship products for farmers and ranchers. But perhaps the most innovative offering Powerblanket provides is their approach to custom heating solutions.
"It's true that our standard product offerings easily differentiated us from our competitors'," Nate Evans, Marketing Director for Powerblanket said. "But what adds increased value to our customers is the ability we have of creating a custom heating apparatus for their specific needs, and the dairy industry is no exception."
Powerblanket custom heating solutions have encompassed large scale projects of many sorts, ranging from frac tanks to large water tanks, and large propane tanks to pipeline valves and instrumentation. Whatever the project calls for, Powerblanket can likely cover it. What's more, the revolutionary approach Powerblanket has for custom projects allows clients to easily communicate the dimensions and other specifics of their heating needs to Powerblanket. Customers can submit a video of their custom heating need, and Powerblanket can create a custom heating solution without the need for costly onsite visits or asset shipping charges.
For more information on Powerblanket heating solutions for the dairy industry visit http://www.powerblanket.com/dairy.
More about Powerblanket
Powerblanket® started in 2005 in Salt Lake City, Utah with one goal – to solve heating problems. Since that time, Powerblanket has become an industry leader in offering such solutions to the construction sector. Featuring patented GreenHeat™ technology, Powerblanket products delivers a barrier of uniform, directional heat where it's needed most – preventing freezing problems and maintaining optimal temperatures. This Innovative heat-spreading technology insulates, protects, and maintains heat in a wide variety of applications. Discover how Powerblanket GreenHeat™ Technology can dramatically improve your output…and bottom line. For more information about Powerblanket, click here.