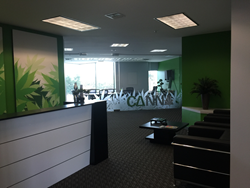 "We are actively consulting in WA, OR, NV, CO, IL, KY, FL, HI, NY and MA" said Chris Macaluso, President of CGI
PLEASANTON, CA (PRWEB) November 10, 2015
Seeing investment capital support in any sector is an endorsement of future success and in recent months as political wins have continued to mount and community support continues to rally we have seen more and more private investments enter the cannabis industry. Investment options within the space are varied and can be as small as a loan to help start a dispensary or as large as an equity position in a looming cannabis powerhouse such as Canna Group Inc., ("CGI"), leading cannabis consultants who recently announced the close of their equity round of funding and a perfect business to be used as an example of a solid investment model.
Based in the San Francisco Bay Area, CGI is comprised of seasoned professionals with extensive experience directly in and with cannabis who've approached this industry strategically and with long term attitudes. CGI's mainstay business offering is expert consultation in various sectors which has since proven to be successful and has allowed them to expand their offerings and interests as they've grown; and they've been taking advantage of it.
Identifying the strengths of any successful business allows one the opportunity to seek out similar traits in other ventures. In taking a deeper look at CGI we begin to decipher those winning traits within this model.
Recent and notable company updates along with commentary:

CGI strategically elected to avoid oversubscribing and closed out their equity funding round quickly and on schedule. (This illustrates intelligence, patience and proves an effective and confident team is at the helm with the future in mind.)
According to Aaron Silverman, CEO of CGI, funding is being used to "Realize the full potential of business modeling, for strategic relationships, to facilitate mergers and acquisitions and to launch several internal brands and products". (This is a business that understands the value in building a portfolio using their network and continues to reinvest in their platform while opportunities exist. These are the companies that will be strategically positioned once the federal prohibition is lifted.)
"We are actively consulting in WA, OR, NV, CO, IL, KY, FL, HI, NY and MA and in the areas of cultivation, license prep and acquisition, cultivation, facility design, brand development, business development, management, operations and dispensaries. We have seen consistent and exponential growth in recent months and our network of clients continues to grow every day." said Chris Macaluso, President of CGI. (Not only is CGI growing and successful but they are growing quickly and have been very successful thus far providing important industry information to the investor.)
According to recent updates on their website, CGI is currently hiring and has recently developed and staffed internal positions in the areas of Account Management, Legal Administration and even created a specialized position in Content Creation intending to build out an extensive educational platform. (More signs of forward motion and overall indicators of strength and direction.)
A recent CGI press release announced the formation of Sugar Leaf Capital Fund I LLC ("Sugar Leaf"), a private equity firm formed to invest in emerging growth companies within the cannabis sector. Sugar Leaf will have offices in California and Chicago, Illinois. (The partnering of CGI with a fund is more than clever, it's downright brilliant and will provide various opportunities.)
"We are proud of the Fund's launch," said Grant Rollin, CGI's Chairman. "The team assembled brings a deep combination of investment and cannabis sector expertise to nurture and develop high growth businesses. Sugar Leaf has the unique opportunity to attract high quality deals, and execute quickly in the rapidly expanding legal cannabis industry."
About Canna Group, Inc.
Canna Group, Inc. is a Delaware corporation that consults in the development of sound strategy, writes business plans, provides expert consultation in enterprise value grow facilities producing the highest quality cannabis available, prepares licensing applications, provides advice on management of dispensaries, offers in-depth educational courses, creates brands and licensing opportunities and offers proprietary industry-related software, invests in cannabis businesses, and generally mentors companies in the industry.