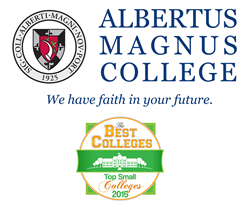 New Haven, CT (PRWEB) November 11, 2015
Albertus Magnus College, a four-year, independent, liberal arts, coeducational college located in New Haven, CT, has been named one of the 50 most technologically advanced small colleges in the U.S. by BestCollegesOnline.org.
The ranking was created using key factors about each school such as awards won related to technology, progressive science/tech degrees offered, and advanced on-campus technology offerings. The editors of the rankings noted Albertus Magnus College's state-of-the-art laboratories in The Tagliatela Academic Center for Science, Art and Technology, and its numerous degree offerings in the science and technology fields.
"We are gratified by this recognition. For us, technology is not an end but a means. It broadens our ability to connect with students and to expand our use of active learning strategies that promote student engagement and success," said Dr. Sean P. O'Connell, vice president for Academic Affairs.
Steven Gstalder, vice president for Information Technology Services commented, "Albertus is known for its small classes taught by dedicated faculty who work closely with students, and our blended and online courses are taught with the same approach, by the same faculty. At Albertus, we use technology to give online students an equivalent experience to what our students enjoy in the classroom. With our Flex programs, students can choose whether they would like a fully online experience or take some courses in a blended format combining an online experience with in-person instruction."
Founded in 1925 by the Dominican Sisters of Peace, Albertus Magnus College resides within a vibrant community of culture and academia. Albertus Magnus College currently has approximately 500 full-time traditional (day) undergraduates and nearly 1,000 continuing education and graduate students from eight U.S. states and two international countries.
The mission of The Best Colleges Online is to provide expert insights into the best accredited online universities across the United States.
###
About Albertus Magnus College
Established in 1925 by the Dominican Sisters of Peace (formerly known as the Dominican Sisters of Saint Mary of the Springs), Albertus Magnus College provides men and women with an education that promotes the search for truth in all its dimensions and is practical in its application, while being faithful to its Catholic heritage and the Judeo-Christian tradition. Located in New Haven, CT, Albertus Magnus College offers both undergraduate and graduate programs with a student/faculty ratio of 13:1. Albertus Magnus College offers convenient campuses in New Haven and in East Hartford, CT.
Visit albertus.edu for more information.
Media Contact: Janel Noblin, Janel(at)GEM-Advertising(dot)com or 1-844-436-8326 Ext: 709